Keep in mind that this painting was done by suggestions from a third grade class at Whitney School, Boise, Idaho by the assumed artist as a demonstration painting according to (myself) vanrijngo.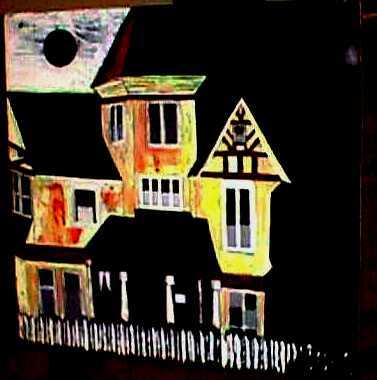 No.... Edward Hopper did not sign this painting and I'm glad that he didn't, for if he had of, it would of pissed me off to no end! I wouldn't be its owner. Then it could have and more than likely would have gone to some other collector, but would of still been concider a fake signature, by you know who would of determined that.  Had of, would of, could have, should of, should have, could of, would have, what ever, what a bunch of bulshit.  Who are these MFA experts?   Well,....I don't need their expertise, because I watched Edward Hopper paint this painting with my own eyes in 1953-4!
Isn't it remarkably amazing that the Edward Hopper Foundation and Whitney Museum of Fine Art didn't want to commit themselves and refused to admit Mr. Hopper did this painting himself when I offered it to them with a similar story but like a child was telling it? I received no answer back from them.  I guess that it was my own fault for acting so un-intelligent and a little corky-dorky.   Another strange occurrence is when after discovering all this and remembering, I read in a Edward Hopper children book where he had vacationed in Mexico, only not in the year I mentioned.  Next Question;  Don't you think a computer might be able to see and tell us who had done this class room demonstration painting?  Well,.. I personally don't need the computer on this one.
vanrijngo
   Description: This Painting was Painted by Edward Hopper for Mrs. Booth's Third Grade class in 1953-4 third-grade at Whitney School in Boise, Idaho as a demonstration painting.
  One day in 1953-4 at the begining or towards the end, I cannot remember which part of the school year, my teacher Mrs. Booth came into class and while standing in front of the class began to speak to us all.  Class, today we are all going to write a letter to this wonderful American artist which I like personally along with his works of art.  We are going to see if we can't get him to come to our class room and give us a demonstration on how to make a painting.  After we all made our suggestion on what we were to say to him, the letter was formed.  We all signed our own names to the final draft. Then she put it into an addressed envelope and she walk the whole class to an old OD green mail box two blocks away on a corner close to the school and we all put our little hands on the envelope before she drop it in.
  When the return answer came, she brought the un-opened letter in front of the class to open for the first time to read to her class.  Needless to say what it might have said, but we all knew he was coming to our class to do what we ask him to do.  I myself remember the day well when he drove up and park his car pulling a small trailer house right outside of our class windows on Owyhee street.  I remember yelling out "He is here", since that was my favorite thing (ie daydreaming) of staring out the windows waiting for the bell to ring so I could run and do my own thing.
After he had come in with all his painting equipment and after Mrs. Booth's introduction of Mr. Hopper and his wife, Mrs Hopper took a seat and Edward begain his presentation.  I'm sure you are all jealous that something like this didn't happen to you when you were younger,  but don't dismay, for two that happened to be in my class that I had got in touch with could not remember this happening.  Both these parties looked at me like they thought I was out there in some kind of la la land, so I decided not to pursue it any further.  Isn't it amazing how other people that you have known in your younger life time, how their memories are so much different from your own.   Anyway, this is definitely not a fabricated story.
As I remember the presentation as Edward Hopper had given it, and to be truthfully honest in my earlier writings about this happening, the writings were supposed to be as a child writing it.  eight years later I will try and do a better job of writing, and thank you for taking time to read this little bit of non-fiction history of Edward Hopper and what a great person he was known to be around children.  After setting up for his presentation it begins as such:
Good morning to you class and to your fine teacher here, Mrs. Booth.  I would like to thank all of you for your nice letter that you all  had sent me asking us here to do this presentation on how to make a painting.  My wife and I did have to take a different route in getting here on our way to Mexico for our vacation, and we got to see some beautiful country on our way that we had never seen before and might never had seen if it were not for your wonderful letter. 
Then as Mr. Hopper is putting a square looking board that he had brought in with him which was painted solid black and placing it upon his painting easel his begins by saying; This is going to be a night painting class.   What do you think of that?  There, it is all done.  Just kidding class (with a little chuckle from him).  Today we are all going to make a painting of a large three story house at night, mainly by suggestions of the ones I call on when you raise your hands to help with ideas to add to this painting we'll do together in building our own house.  Instead of painting this house as a carpenter would build a house from the bottom up, we are going to start ours from the top down.  For now I will start by putting the lines for the top of the house or better yet  the top of the roof line in the night sky.  over here I will start by adding in some of the sky.
Oh-Oh class, what would you think that I might have done wrong here?  As he calls on one of my classmates they say;  Mr. Hopper, you said it was going to be a night painting and you have started to paint the sky white.   Very good, I can see you all are being very observant and paying attention of what I'm painting, but I feel I should tell you,... you  don't always need a black sky at night or you wouldn't be able to see anything.  So we will just leave the sky white on this side and dark on the other side and add a black moon for our light source as some one suggested putting in a moon.  As more suggestions from the class are made and as the building begins to take shape he asked my secrete love, Kay Mc Clean, what would you suggest now my beautiful young lady?  Blushingly she began by asking, what if someone were to get up and turn a light on to go to the bathroom?   That is a great suggestion my young lady,...We can do that right here in this window.
As more question and suggestion went on the more it started looking like a house to me and the more I wanted to get my two cents worth in helping build this house, so when he finally called on me I blurted out, put some nails in it!  The whole class started laughing as I caught that look from Mrs Booth,... then Mr. Hopper interrupted;  Now class,... that was a great suggestion,... for I can add them right here in the top of these porch beams that was suggested by Linda, and now as we finish them we don't have to go all the way to the floor of the porch with the pillars because it is to dark down there to see them, and besides, like what was suggested by Tommy earlier, we can add a fence in now at the bottom.  Now as we are getting further from the light on this side you don't have to add all of the board of the fence.   Why?  Yes,.. because it is darker on this side.
Now that we have come to the end of this very wonderful experience of making a house painting in the night, I want to thank all of you for paying attention and for your suggestions in helping me paint this class room demonstration painting for you and your teacher, Mrs. Booth.  Now before leaving I would like to thank your teacher and thank you all again for the wonderful letter which brought us together.  As he is getting ready to leave after packing up all of his painting equipment he most likely says; You all have a nice life and my wife and I will now continue on to Mexico after visiting some Family of our in Payette, Idaho.     Edward Hopper  Goodbye now!  
The way I remember this event, a true happening in my life.  Whether or not the painting was given to Mrs. Booth or to family in Payette, Idaho I do not know for sure, but Payette is where I found it at a St. Vincent second hand outlet hanging up high on the wall .  I had to have the clerk get a ladder to get it down to see the price they had on it.  It was priced at $2.00, so I bought it not knowing then why it fascinated me so much only remembering later I had actually watched this painting being painted by the artist in question when I was in the third grade.
vanrijngo---Bob Miller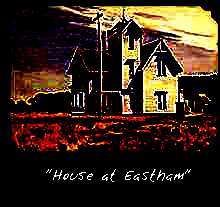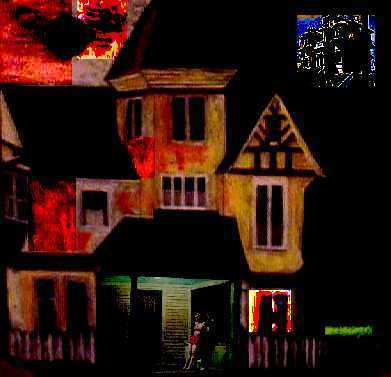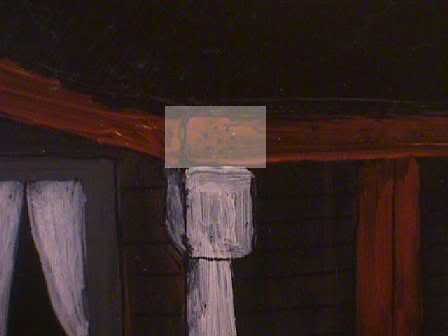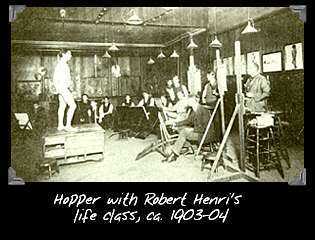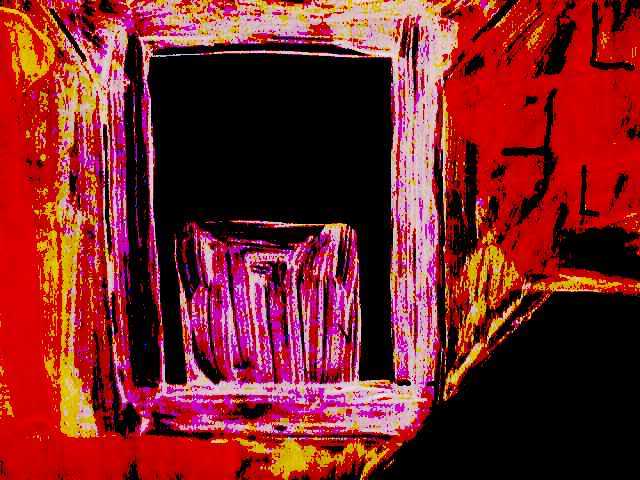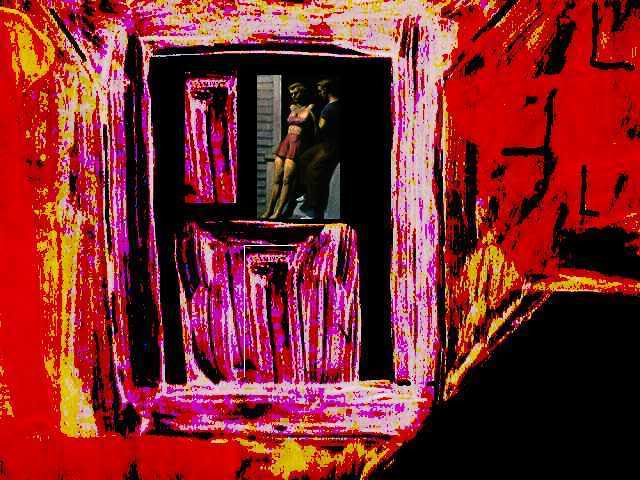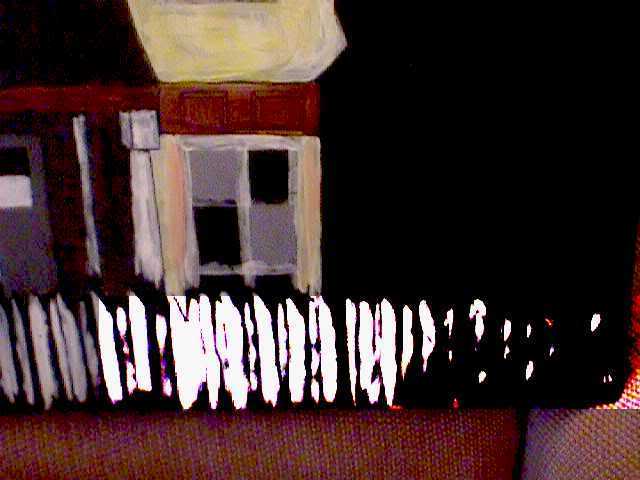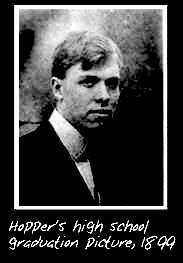 HOPPER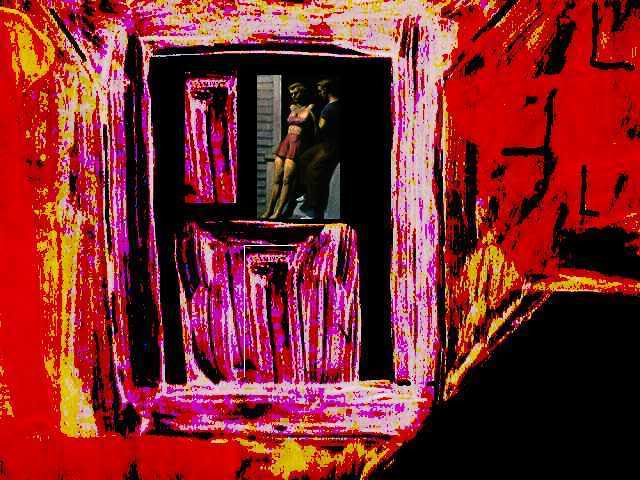 Kaye McClean's suggestion, "what if someone got up to go to the bathroom?"  The reason I remember her name is because I wore her beaded  pin in the fifth grade which meant we were going steady and I was secretly in love with her all through grade school, junior high and the first year of high school until I quit school to go into the Army.  She was not my soulmate, for I met my wife in Southern California in 1968 and we were married in 69'.
10 year old Bobby Miller's (my own) suggestion of putting nails in it. They are at the top of each pillar holding up the front porch.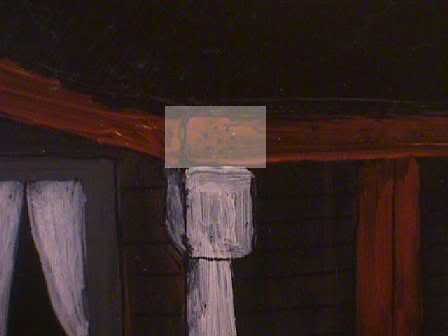 another look at Bobby's (my own)  suggestion.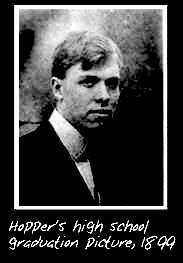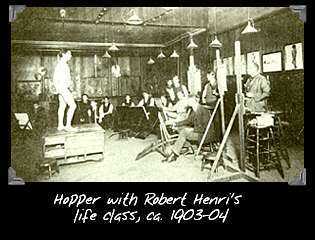 O'l Eddy has kind of a ora about him.
Hopper was a huge silent hulk, Jo a tiny, social, chattering person often furious at her husband who rejected and ignored her. She was an educated woman who had worked for a living and finagled a pension. For a while she had been friends with left-wingers, actors and feminists, though after marriage she adopted Hopper's conservatism. She too had spent time in France and could quote Verlaine. She wrote tellingly of her disappointment in the marriage bed:
...appalled at prize hog proportions that the whole thing was entirely for him, his benefit. ...he set forth to build up as neat a little job of inferiority complex for which I in my ignorance was eligible. I, so subnormal--not enjoying attacks from the rear!
The couple, married for 43 years, exhibited a weird combination of tenderness, fury, rivalry, disdain, cuffing and biting, competition, resentment, rejection, dependency and the strength of similar interests, including mutual passions for art and the theatre. Their periods of collaboration occurred as Jo posed for almost all the female subjects in Hopper's paintings, even Girlie Show when she was nearly sixty.






    "Edward Hopper class painting" Search Tuna Report      http://searchtuna.com/cgi-bin/st.cgi?action=main:















getSearchPage&accountId=827&searchId=4592    T  thetuna@searchtuna.com















vanrijngo