I know what you will say,.... it's completely different. Of course a painting as a classroom demonstration done in 1953 by Edward Hopper would be different than his regular works of art. You ask yourselves how can I (vanrijngo) say this with complete authority? Well,... It is like this my friends,... I watch him paint it with my own eyes when I was nine years old! Click below to read about "The House at Whitney".
more work of art below with questionable authenticity.
Yes, one would wonder who exactly could paint Judas kissing our Lord Jesus Christ on his cheek without the majority being able to see, or say for instance, a young girl playing with a small monkey waring a little hat before he kicked the bucket. Yeah, I know it's just a mop head, but wouldn't you think she would rather be playing with a monkey than mopping floors?

ABSTRACT adjustments by VANRIJNGO


http://www.conservartassoc.com/spie.html

They say contrary to popular belief, there is a great difference between the detection of forgery in the arts involving the masters of fine arts versus the authentication process,... practices of ones which have been used in the past by all MFA experts and art historians, to say which works of art were supposed to be authentic and done by whom. They also say in the next breath, that science is generally very good at producing evidence of falsification, but often is equally poor at proving authenticity.
Vanrijngo asks, what else would one expect out of these MFA so-called experts mouths when something that they say is real, science in turn says that it is false? Just ask yourselves,.... is there really something drastically wrong with this big picture? The primary reason for these gross differences is that connoisseurship and art history are more strongly involved in these processes now used, these ones of authentication which are lacking in scientific testing and analysis.
I say that there is a definite pronounced lack of substantive interaction between scientists, art conservation professionals, and art historians. Is there any really good reasons entering your minds that would make you wonder about this if it were put to you as a question? In the case of a recently discovered painting by John Constable which they used to illustrate the difficulties and opportunities of a balanced and systematic approach to the process of authentication, they say there is much more than science involved in such endeavors.
They say this would not surprise anyone who has attempted to introduce works of art through non-traditional channels other than there own. For you see, they have always had a monopoly on these practices, so of course this wouldn't surprise anyone. As for most of the ones that has used their own channels before, most all which were not in their cliques, got there most often and popular answers back from these so-called supposed MFA experts ,.... "Not done by this artist", or "sorry, it's just a copy", and take to your closest neighborhood auction.

Great problems arise when the curatorial community is asked to consider works that supposedly do not easily "fit" into a neat art historical period or stylistic pigeonholes of mostly their own assumptions. Supposed connoisseurs, curators, MFA experts, historians often will only accept the best works of these artist and discount and not except the inevitable products of the artist's evolution -- supposed less accomplished works. These findings are definitely on the right track now for they are now saying themselves, that scientific principles and technical evidence can and must be used in order to elevate the practice of authentication. I think they misspelled evaluate.


Keywords: art authentication, art forgery, fake(s), fakery, art analysis, John Constable

1. AN INTERDISCIPLINARY WORK

As indicated in the title and abstract of this paper, there is great need for the integration of a scientific approach to the authentication of works of art. What is required is a task that is often paid lip service to but rarely performed on a day to day basis -- true interdisciplinary work. The particular problem is that the special knowledge required is on extreme ends of the academic spectrum -- science and art. The writing of this paper was particularly difficult due to the differences in personal and academic style of the authors. However, that is precisely the synthesis that is required to deal with some of the issues that are presented. The constant interplay of polar approaches is necessary to objectively deal with the "truth" of works of art.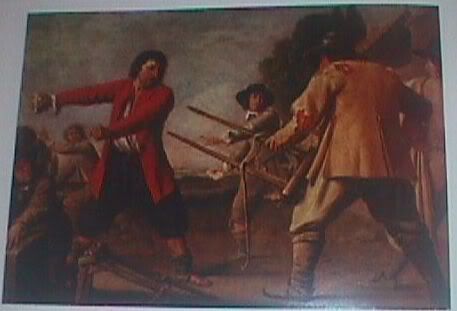 The truth is that the artist is in the bottom left hand corner of this painting, while he was in the process of painting a begger man and changed to making a drawing of the total happening to paint later. This all happened when some thugs came up and threatened one of his model with bodily harm, and when the Amsterdam-guard answer the disturbance they shot one of the participants of the fight dead in his tracks and on the spot, according to the witness before the guard arresting the rest of the culprits. This was all recorded in the book RvR 1642 according to the witness Efphrem Bruno a French Count, and his friend Dr. van Loon the author of the book.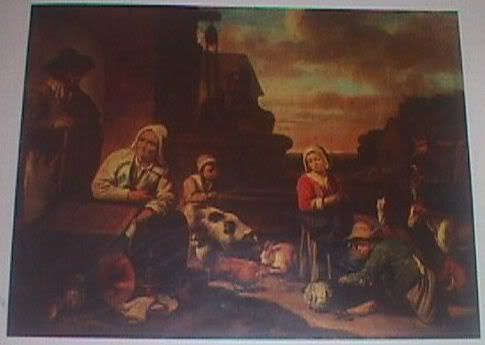 I do have something to say about this painting here also,... the true meaning that I believe, while revealing the people that is in this paintings identity, and painted by the same outstanding artist. This is Rembrandt's little mistress, Henrietta, or as known to most as Hendrickje Stoffels, her mother, little brother and older brother, all in the same painting. This is a representation of her mothers work, to support this mostly illegitimate family, represent by the woman at the well behind her, while one of her paying customers is to her left.
Vanrijngo says,.. you take the truth of these two paintings shown above found in a book called "FRENCH PAINTINGS" from the Pushkin Museum. One is called "The Fight" attributed to Mathieu Lenain by P. Weiner, and the other is called "Peasants By The Well" by J. Thuillier. I myself could give a shit less who these MFA experts say painted these two painting. If they used the scientific data already in existence while taking the Data collected by Dan Rockmore on Rembrandt's idiosyncrasies in the artist's data bank, the data collected would have no problem in telling in a percentage value whether these two paintings were in fact painted by Rembrandt's hand personally, or if his students had a hand in helping paint them.
2. FAKE VERSUS AUTHENTIC
"The search for truth and finding it, you would think it should deserve some merrit".
The question of whether a work of art is a fake or authentic may seem relatively simple but there are many complicating factors in the creation, sale, distribution and exhibition of works of art. In fact it is critical to determine the differences between the various gradations of "truth" represented by the continuum(1):
authentic (by the artist alone)
authentic (by the artist and others - studio assistants and specialists(2) usually not explicitly stated)
"school of" (by persons in immediate contact and clearly influenced by the artist)
"circle of" (by persons influenced by the artist)
"copy of ..." or a "work after ... [a known artist]".
forgery -- a deliberate attempt to mislead a viewer as to the identity of artist, era, materials, etc.
One must be quite careful to discriminate between works that were initial studies done by the artist in preparation for a more finished or larger scale formal work. These are, of course both authentic, but often vary greatly in style and general treatment.


The gradations of the problem of authenticity can be easily summarized by considering a small case history of a painting owned by a private client that arrived in the ConservArt studios for a conservation treatment. The painting was attributed to Francois H. Drouais (1727-75), a well known French painter. After a thorough examination there were some questions as to why the painting had been lined. The treatment required removal of the lining and when that was done a large black ink stamp on the verso of the painting was found. In German it read: "Copie nach der original #1825 der Kun[??] Gemäldegalerie zu Dresden 1916". An official copy was made in the museum and was accordingly identified as a copy in 1916. Subsequently the painting was lined and then it was misrepresented as being a painting by Drouais. Is this a forgery, a deliberate and fraudulent misrepresentation, or an accidental attribution to the originating artist? Herein lies one of the many problems that are faced by dealers, collectors, and museums. Mis-attribution is not necessarily deliberate and copying is not necessarily forgery. However, the net result in this case was a considerable if not catastrophic devaluation of the work.


The divisions on this scale of veracity can be complex. In the case of prints, connoisseurs have long recognized that original engraved and etched plates have been used over centuries to "pull" new prints. There is an inevitable deterioration of the overall image quality by the progressive mechanical and chemical damages inherent in the printing process.(3) These telltale indications of age are also surrogate measures of authenticity and of value. A truly authentic print may rightly be that pulled by the artist or at least, done under their supervision. This is just one example of the potential complexity of authentication questions. Even if one only concentrates on monotypes there are sufficient problems to occupy most art professionals indefinitely.


Forgeries are relatively easy to detect. All one needs is a strongly negative finding to render a judgment as "not authentic". However, the opposite is true for authentication. It is a complex process requiring art historical input, as well as technical/scientific analyses. Can any historic object be deemed 100% authentic? That may be a very thorny philosophic and scientific problem. However, we can do much to refine the process by which we might come to a more balanced approach.


Perhaps the example of the Rembrandt Research Project(4) might be used to indicate a general direction to pursue for the authentication of a broader range of art and archaeological materials. It is important to consider not only what professional disciplines are required to perform a reliable art authentication but what type of analyses would constitute an acceptable level of proof.
Well,.... vanrijngo says,... perhaps using computer science, scanning abilities, computer photo shops and many more new technologies now in use in all governments and criminal programs in most all countries that are in this MFA world of ours,.... just may be a good place to begin. They ask can any historic object be deemed 100% authentic? I personally do believe they can,... that just maybe this thorny philosophic and scientific problem isn't all that big of a problem or break through as thought to be,.... It just needs to be implemented and used to put these MFA people in their rightful perspective place.

http://www.conservartassoc.com/spie.html

vanrijngo