Willemina van Gogh
Oil painting of Vincent van Gogh's sister Will, and with this drawing below on the backside of the canvas.  I know the whole lot of you will say to yourselves, no way,... this was not his style!  Well, I say you are all wrong, this was one of Vincent's ways of expressing himself when his brother Theo wasn't around telling him what and how to paint.  When Vincent painted this portrait of his sister Will, this was pretty much how she had looked for her portrait in Vincent's eyes and the way he was painting portraits of the ones in his family while knowing they would want their own portrait to be more to their own likeness.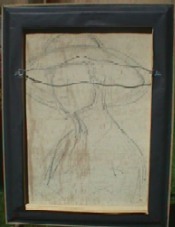 The backside of canvas of Vincent's sister,...
Willemina van Gogh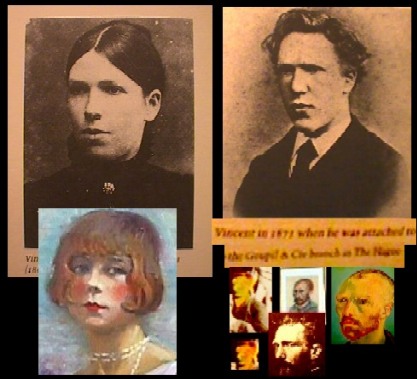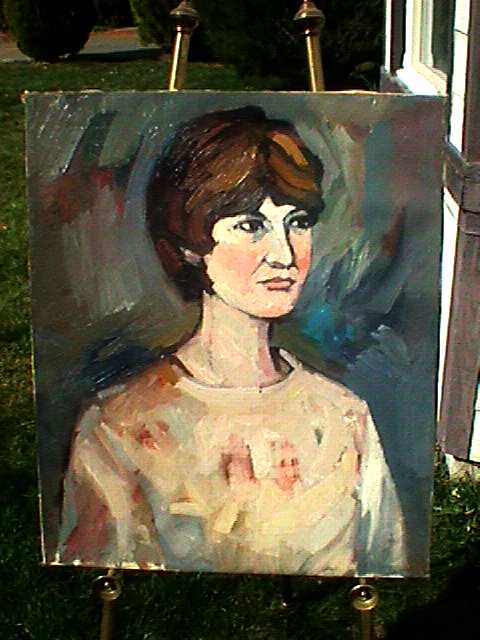 This was the portrait given to the sitter below by Vincent. It is a variant of the others paintings of her, which her father sold off their porch with another Vincent painting given to him by Theo. They both were sold to an American Painter for a offer of eighty five francs.  To be perfectly honest with you,... the amount I paid off the wall of a second hand store was a lot less that that. It just goes to show you that unrecognizable paintings by Vincent still adds up to a big fat zero!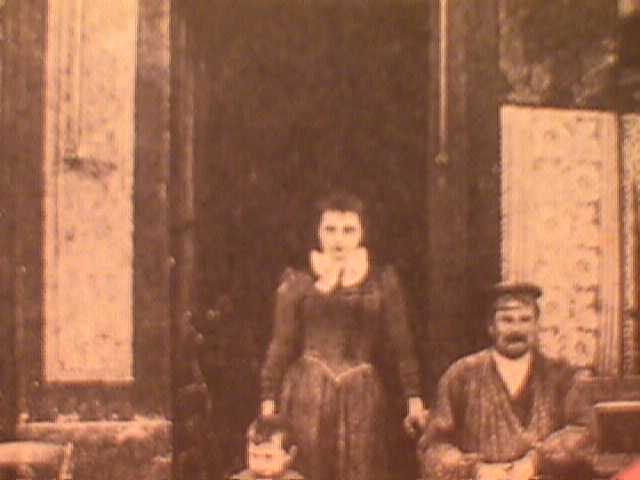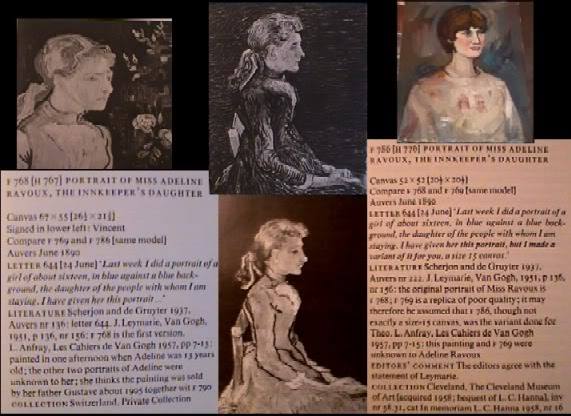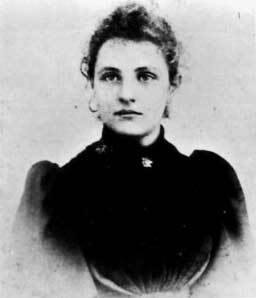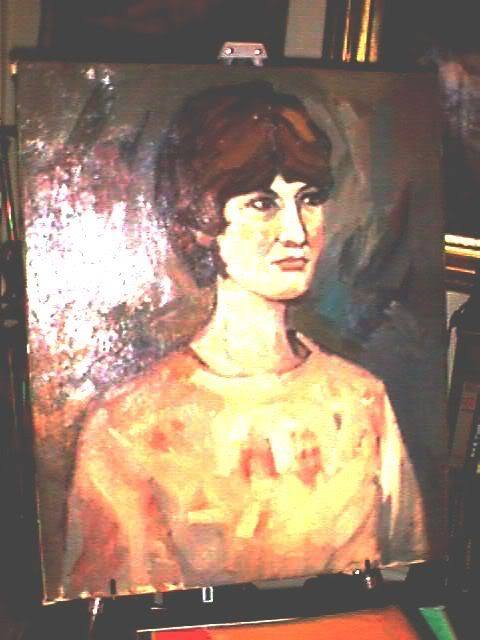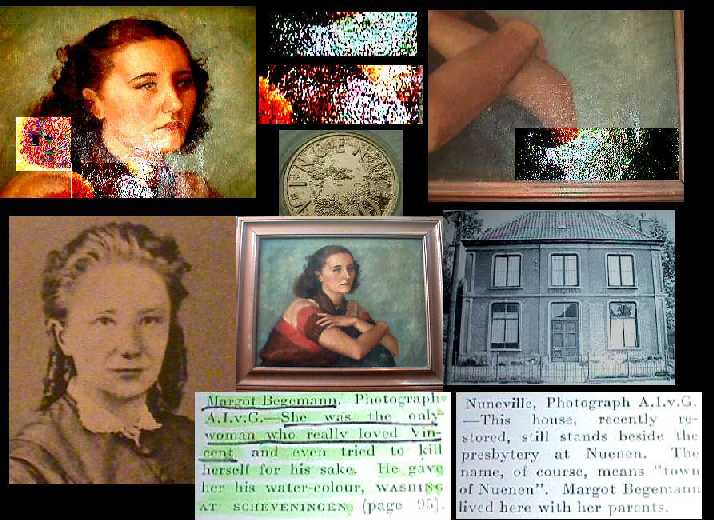 Now you look at this portrait of Margot Begemann and you will see what and how this young girls picture differed from the 37 year old woman had looked like when Vincent had painted her.  This portrait of her was given to her with out charging her for him painting it for her.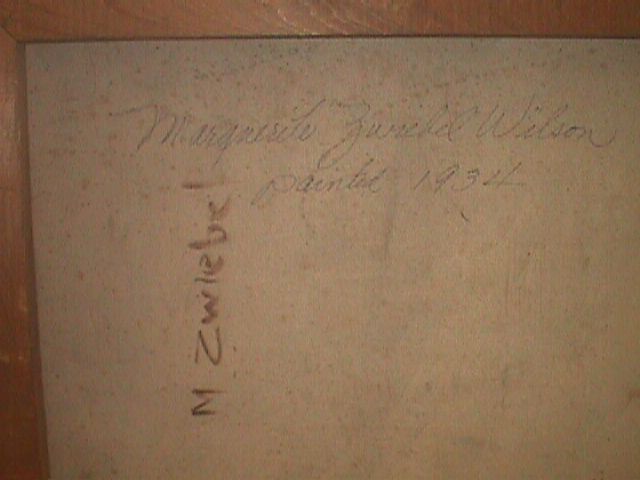 Back of canvas with two distinctive descriptive writings on it's backside, one that wrongfully describes her to be the daughter at the time of its sale. Totally amazing how pictures and time can be distorted & lost. The brown signature M. Zwiebel must have been Margot married name and the other name being of her daughter from the estate sale where as they assumed it was of the daughter painted around 1934 from the age that she was when she had died. She couldn't have been alive when that was written in ink as for to dispute it and to tell them that the portrait was of her mother Margot.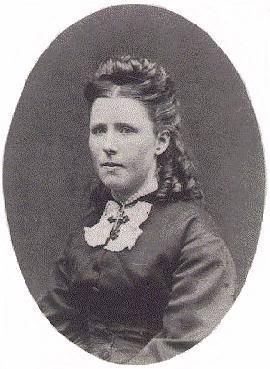 Picture of Anna, Vincent's sister when she was still in her late teens or early twenties.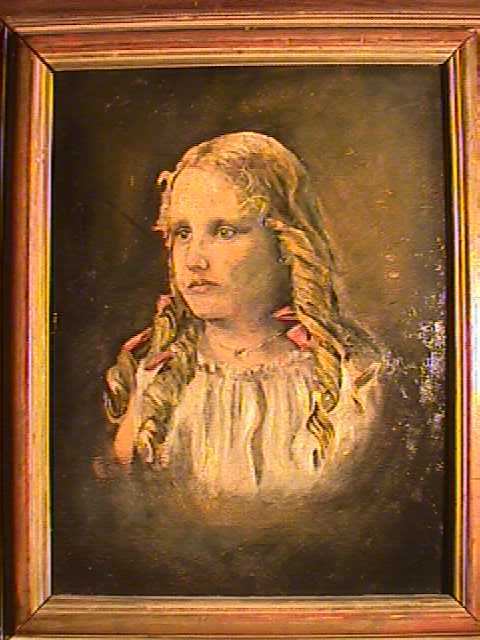 Painting of Vincent's sister Anna by Vincent when she was seven and Vincent was nine years old. I personally would say Vincent was a pretty fair artist before most even knowing him to be one. The boy that was the son of Vincent's father's carpenter in later years said he remembered Vincent painting in color and making things out of wood at his father's carpenter shop when Vincent was just a young boy.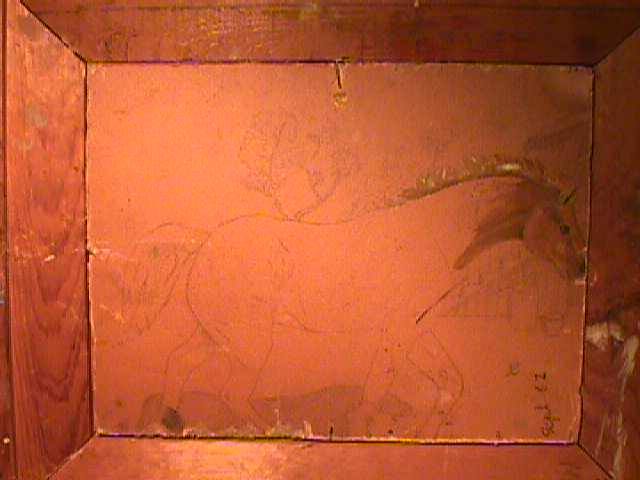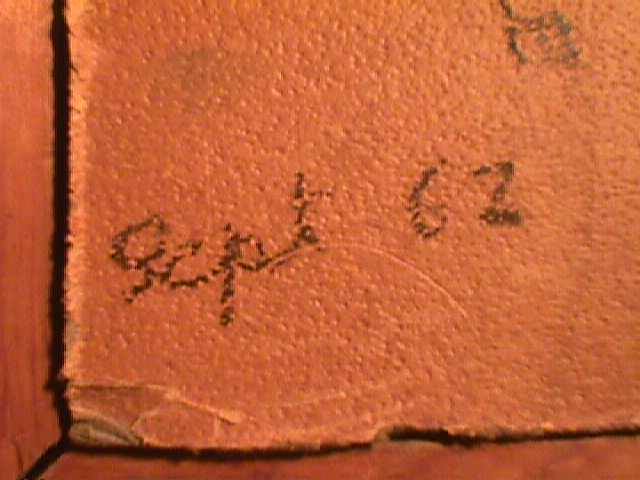 Velazquez portrait of himself and his Wife on old Material of some kind.
You can see a partial part of the Cog painting of a large Mark Bangerter painting in my collection.
Velazquez portrait of himself and his Wife on old drapery type material. You don't believe this material is old?  Well I have proof in just words my friends. You can take some existing treads fraying from the materials edge,.. lets say about 5 inches long. fold in about 1/4 inch folds through the whole five inches doubling the tread size about 15 to 20 times int about a quarter inch long. You take this little wound up ball of string in both your thumbs and forefingers,... twist the ball into two parts, roll those two parts around in your thumbs and forefingers and it turns into a powder as it falls to the floor.
 
Velazquez & Wife from above.
Only a court painter such As Velazquez could or would be able to add gold flakes into his clear varnishes to create a gold flake paint back in the 17th century. He painted the same time period as Rembrandt painting in Holland.  Everything one can imagine was at the court painters disposal while painting for king Phillip forth of Spain. I could actually show you the Craqulars in the paint that actually take centuries to form unless you bake them in by a high temp oven, but I'm not going to right now.
An un-known supposed Spanish woman from a Velazquez book but I'd say she is a well reformed lady of the courtesan trade of Italian decent the same time period as Pope Innocent the X of Rome.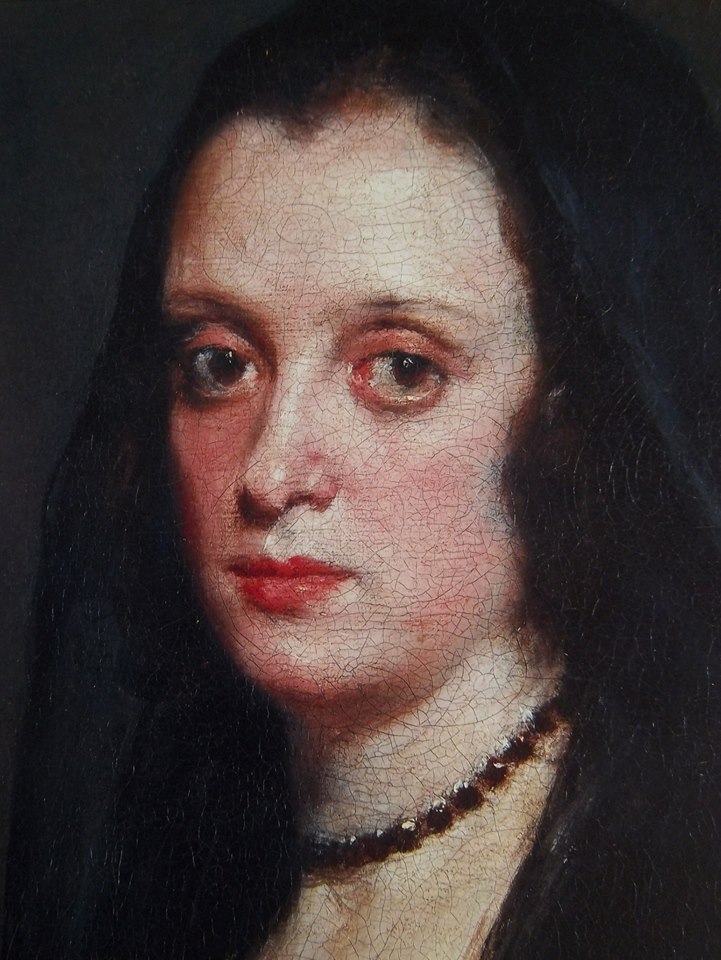 It has had one marvelous professional restoration done to this painting and in it's original frame from when it was created just below.
Isn't It amazing how Powerful people can rewrite history?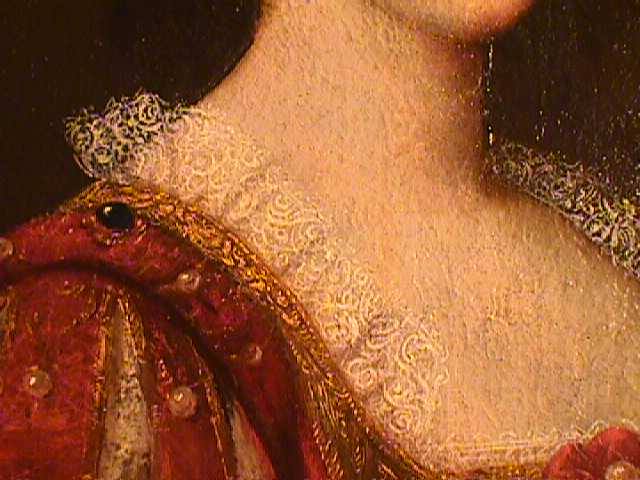 Just check out the delicateness of the lace. It's almost like the fanciful drawings of lettering.  I don't know about you,.. but I myself, lets say like a computer, would find Velazquez' name big and small all through the lace. As far as I'm concerned these finding of mine are to me equivalent to a signature of the artist.
 What marvelous journeys and trips these artists put us on, and especially Velazquez when taking his trips to paint important portrait for his King.  Women has always been the intriguers of men, all the way back to Eve.  It is like Pope Innocent the X of Rome saying about Velazquez's ways of painting,.... that he dare tell more about him than he wanted known.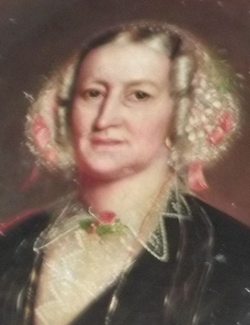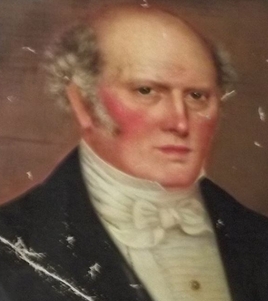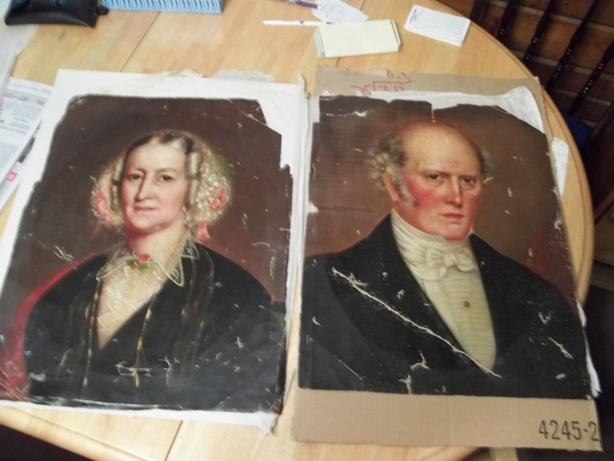 Very old 17th century portraits of a married couple in their fine dress cloths. You can see how at one time they were framed in large square frames in a oval opening.  The canvas's is in need of relining.
It seems as though Velazquez got a little better at doing ears as time went on. These were probably hurry-up portraits for Innocent and his wife to hang in their own living room.
I hope that you all have enjoyed this little trip that I've tried to put you on!  Now it's a little bit more understanding why this beautiful lady with her fan is and was unknown to most all of us and it seem as though she was in the circle pretty much all the time.  Damn that artist telling all these stories in his ways of painting, and what was that said and quoted by Pope Innocent the X of Rome there in parenthesis on that page called A Daring Maturity a ways above?
Well,... I'll say it again for him the way I think it was said; "The artist Velazquez, in his ways of painting, dare tell more about me than I want known!"
vanrijngo