Rembrandt's Painting of his one time called painting,
"Tobias's Farewell",
once concidered painted by him, and now hanging at Hermitage, St. Petersburg, Russia;
And now it is concidered to have been painted by;
Samuel van Hoogstraten 1661/1663
"Tobias's Farewell to His Parents"
Hermitage, St. Petersburg, Russia
I want you all to know that it is very strange to me,.. and it should also be to you, that not one Rembrandt MFA expert or Art Historian since I have been posting on the WWW has step forward and said enough is enough.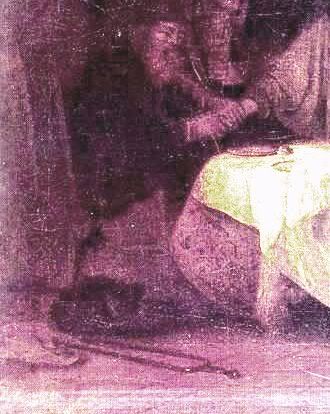 I love coming back to older post and adding to them,... ones that I knew got under the skin of the MFA experts little bit more than other ones had. In looking a little closer at this enlightened and enhanced bottom left corner of this painting, You just might be able yourselves to see and to pick up on the double meaning of this Rembrandt painting which was painted in the year of Titus's death. One Meaning being Titus asking for the hand in marriage of his wife, while the other systematically is conveying Titus's own death as being visited by family members,... including Rembrandt himself along with the apparition of Titus's long time friend,.... his and Rembrandt's dead and long lost pet monkey.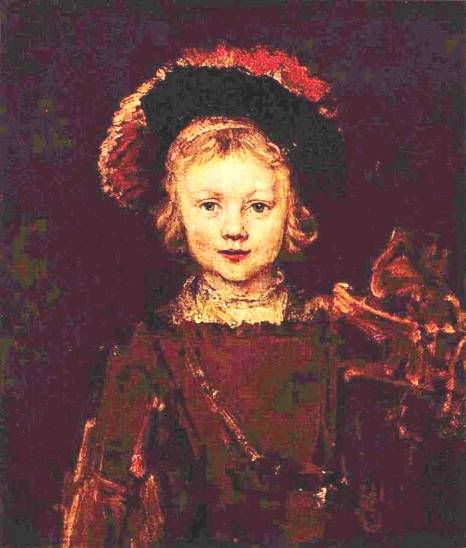 Now that this painting above is now concidered not to be of his hand either, the MFA experts are now saying and insinuating that animal looks to them as being a parrot or some other type bird painted by a completely different artist other than Rembrandt. Just maybe they would feel better if one of them would accredit it to the same artist Samuel van Hoogstraten since it has the same monkey and chain painted into it.
To read this prier post of its entirety on this Rembrandt work of art, just click on this link below.
I personally believe it should have been given a better and more fitting name,... what do you think?
Well my art loving friends,..... I myself would say it would be a real cold day in hell before these MFA experts wise up and see what was painted, along with the stories that were told by these artists. Yes, time is getting awful short for these MFA experts and the rest of us, one who need to take a closer look at the Mayan calendar and read its final story. Oops,.... it isn't there,.... that should tell us all something.
Cheers!
vanrijngo