Rembrandt's "The Night Watch" painted in 1642, compared to a 1632 painting, I'm assuming representing a painting of "The Ascension of Christ",.. some peoples considered Lord & Savior.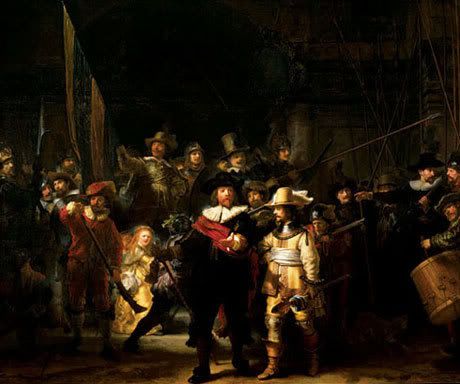 Thanks to his massive talent for
composition
, Rembrandt never seemed to have any problem with how to arrange group portraits, not even in his teenage days as a painter. His ultimate group portrait (and perhaps THE ultimate group portrait) is the Night Watch.
A group portrait is a problem of perspective (perspective enters when not all the people are at equal distance from the observer, the challenge is to get the proportions exactly right) and also of behavior: the artist must paint his subjects such that everyone seems to be doing something natural and logical. The Night watch is famous for it's orderly chaos: the people aren't lined up statically, but everyone seems to do as he likes, while each individual fits into the group portrait naturally.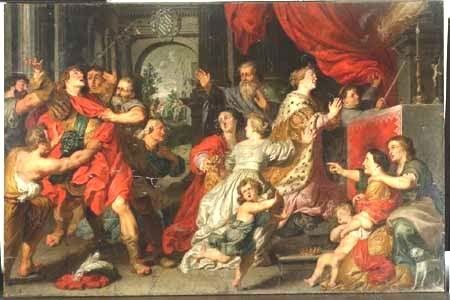 Now,... with possibly of using your own imaginations, let's imagine that what was said above about "The Night Watch" pertains to this painting also,.. and say for instance the top portion of this painting at one time was cut down as for the room to hang it,... to where the ceiling was not high enough to accommodate as large of painting, just as "The Night Watch" was reduced in size.  What exactly would you think would be cut off?  Well,... I'll tell you my art loving minded friends,... the ones who happen to read my bloggs. I Believe it was the portion in which this gentleman to the right who is being held back,.. is looking at.  I'll give you all a clue,... by adding one of my own paintings out of my own collection below, to possibly help show you what could have been what the artist represented, or possibly what in similarities had been cut from this painting.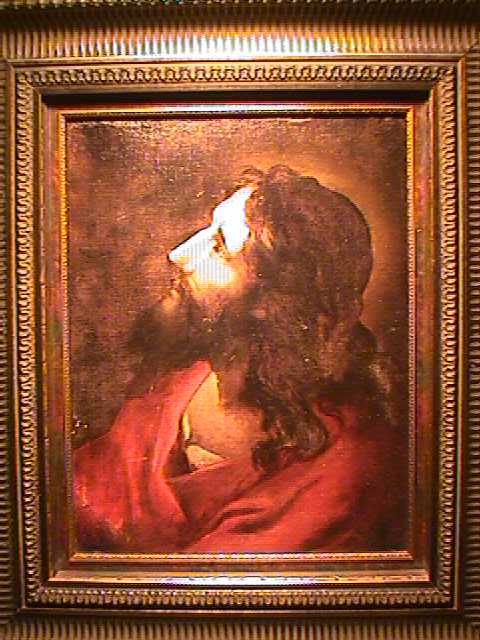 The kiss of betrayal by Judas warring his own red robe.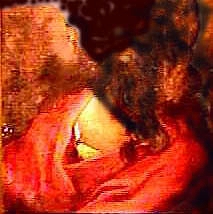 Judas trying to give back the thirty pieces of silver to one of the guard solders of Pilate' after kissing Jesus showing them which one who claimed he was the King of the Jews.
Request for reactions to large, high-quality but as yet unattributed Flemish painting in Warsaw: an appeal from Hanna Benesz
Wednesday 24 October 2007
----------------------------------------------------------------------------------
 
Now speaking in general of composition, I would say myself, that there is a lot of similarities, of both compositions, from this unattributed Flemish painting in Warsaw, as to Rembrandt's Night Watch.  Now if you care to compare the lay-out of the different subject matters,... the complete compositions as a whole, or the seemingly three grouped sections of both painting, while keeping in mind that they both represent something totally different. Rembrandt, I believe was trying to show his viewers, their inner self-conscious minds, the real main themes of these paintings, what it is in those two paintings, which are causing and bringing on all of the different emotions. 
In not using the documented words of Rembrandt, which was spoken to his good friend Dr. van Loon,... when sitting him down in front of this Monstrous Painting of "The Night Watch",.... I'll try and get across too you all,... the main hidden just of these paintings.  Please keep in mind that there was a ten year span in time of these two painting of being painted, that we are comparing,... from 1632 to 1642 the year of his wife Saskia's death.  I'll add the same small picture from time to time, as to where you don't have to go back to it, and lose your spot of reading.
Now,.. let us begin!  Imagine yourselves going out on the town, to your favorite night club dinner house, with your spouse or who ever, for an evening of fun and frolic,.... oops,... excuse me,... for I think I used a partial phrase of his.  Anyway while you're sitting there eating your dinner and enjoying your drink, and glancing out towards the dance floor,.. listening to the music and watching the band play, people are cutting a little jig to the music, looking like they're having the time of their life.  You just want to finish your dinner and get out there and join in on the fun with your own partner. 
I know what you are all thinking,.... what the hell is this guy looking at,... and out of what?  Has he been drinking Absinthe again, like Vincent van Gogh did, lost his mind and hallucinating in the name of art?  Not really my friends, for I've the same perspective vision of both Rembrandt and Vincent van Gogh.  Now in getting back to this picture my friends, imagine in the foreground there is this tall beautiful brunette young lady, pulling up her dress in front while dancing with the Captain in black and who is doing his little dance jig around her. 
If you look between the two of them dancing, you just might see another Dutchman in a hat with a feather, flailing his arms and body around while dancing with his own hidden partner.  The obscure face of the little witch with the dead chick tied to her side, becomes the shoulder and and upper arm of this tall young thing that you are looking at as she is dancing.
Behind the Captain in black is his lieutenant,... in his yellow hat, the actual taller of the two, who is having himself a little feel-up time with the honey who has her head laying on his shoulder as they are embracing as dancers on the dance floor. You look to the left of the tall Brunette dancing and kicking up her heels, there is a couple both warring red dancing cheek to cheek with the butt of the musket showing us the folds in the back of the brunettes beautiful golden gown that she is hiking up her front legs as she dances with the Captain in black.  
  This would be the music source, the band players with the guy up on stage with the other dancers, one who knows and can sing the words to the song that the base player, flute blower and drummer are playing over on the right hand side.
More coming later.