Why I'm doing what I'm doing, and saying these things,... is pretty clear in my own mind,... and I feel as though they haft to be said,... and even shown. Moving this blog article forward from September 09, 2007 with a little editing done.
this Area seen here always was in the same dream that I had from a child on up.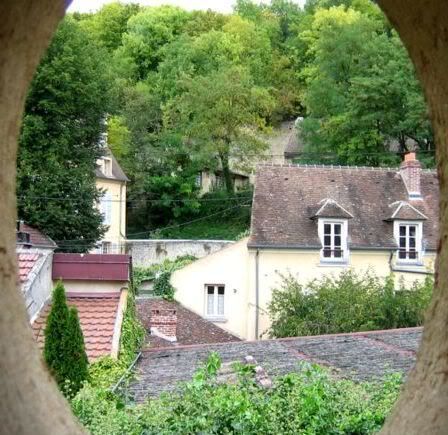 I must say that this picture is one hell of a view, to be stuck in Vincent van Gogh's mind and soul,... from looking out that round window hole in his room. The possibility of a person of his reincarnation,... to possibly visualize every bit of it, all its fences, every yard, as reoccurring in many dream scenarios of being chased, and even shot at,... of course in his own mind and soul, his dreams right on up to the time he might had finally realized where they had come from.  Not so long ago,.... is when these age old reoccurring dreams had come from,.... and what might had caused them.
vanrijngo
They say he wore blue linen trousers and a smock, and had a little red chin-tuft; he was "an ugly creature." One can almost imaging these rags falling from his body.
Is that a white dove flying in the sky in the clouds, bringing and dropping off good tidings? Unfortunately,... I'm afraid not.  The only thing which came,.. was Theo's very disappointing letters, addressed to his loving brother Vincent. There out there my friends,.... you only haft to read them.
This house has one funny shaped roof, wouldn't you agree?  It reminds me of an envelope, that possibly Vincent was hoping to receive from his brother,... before it was to late.  Presumably coming from that four or five story building of his flat there in Paris,... the one that housed most all of his Brother's antiquities, and all of the works of art (which were left) that was sent to him by Vincent.
How could this have happened between these two brothers, considering their supposed same love for the arts?  Why was it so hard for them,... to see eye to eye on this art thing.  I'm sure there are ones out there reading this,... that knows the correct and rightful answers.  Do you supposed that there might have been a little family greed and a lot of animosities?  Was it not Theo who had dispersed most all the money of all the inheritances,.. for his whole families well being?  Was not there a little resentment from them, thinking most all the money was going to Vincent,... for him to produce this non-forsaking and non-forgiving art?
Letter from V. W. van Gogh to n/a
Amsterdam, 1949
Vincent's Nephew
Hendricus Dekkers (born January 26, 1875) told me that he got 5 cents and for two blackbirds' nests, 10 cents. Once he received 50 cents for a swallow's nest. Vincent took him along on walks, and talked a lot with him.
   Suddenly Theo threw himself down, or else a mightier power cast him upon the floor.   His lips moved and said: 'never again, brother! So help me god!'   He lay on the floor with his head thrown back on the mattress and his mouth wide open.
   Vincent could not understand, for a cloud had descended upon his senses.   There was only one thing he believed he realized, and that was that their paths were no longer divided.   They were traveling along the same road in the same direction, and this was a good moment.   Then Vincent whispered to Theo that now he wanted to go home.   He said it in Dutch: 'Zoo Heen kan gaan'----  Theo bent over him and closed his eyes. It was in the early hours of the morning of the 29th of July, 1890.
Van
Gogh passed the end of their life in the Auvers-south-Oise, a town to the north of Paris where they had gone before the other artists, like Daubigny or Cézanne and where in addition doctor Gachet lived, the art work doctor and collector to that Theo van Gogh had ordered to the care of the health of his brother Vincent. In little more than two months than it lived there before its suicide, Van Gogh developed, with one recovered energy, a frenetic creative stage.
During those last weeks of life, it painted some pictures and numerous landscapes between which is this one of "Them Vessenots", the zone of Auvers in which doctor Gachet lived, who was in addition the first proprietor to the picture. One is an example characteristic of its pictorial language of the end of its life, in which the artist combines outlined compositions, a reduced trowel, of luminous green and yellow, and anxious and nervous pinceladas, that follow ondulante and repetitive a rate.
In a landscape of elevated horizon, a series of old houses of the countryside, some with straw tile roofs are grouped, next to extensive fields of wheat and some ondulantes trees.
Although always it painted as opposed to the reason, the picture shows a very personal vision to us of the landscape. Van Gogh transforms what sees in something deeply personal, showing of visual form what it suggests to him what it is watching. The fertile meadows of the environs of Auvers produced faced feelings to him; the freedom sensation that it as opposed to had those ample ones seeding, opposed to the melancholy and the sensation of solitude that produced the wheat fields to him.
Crushed by contradictory sensations and in the middle of a relapse of their strong depression, Van Gogh finished their risky existence tragically. In the morning of the 27 of 1890 July, provided with his belongings of painter, like any other day, one went to one of the fields, that repeatedly had painted in the last weeks, and a shot went off. It died single and tormented, although, as we read in the last letter that wrote to its brother, maintained until the end a spying of hope in its work: "The truth is that we only can cause that those are our pictures that speak".