Portrait painting of Margot Begemann,... Supposedly one of the only woman who loved Vincent van Gogh.  Moved this post forwards from November 24 2006.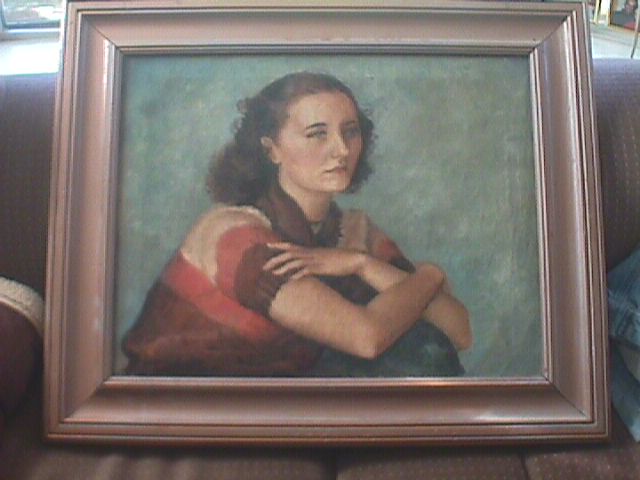 56cm x 46cm or 22" x 18"  Frame 28 3/4" x 24 3/4"
Don't the most of you who read my writing's in my blogs find it amazing that this camera flash highlighted and enhanced areas of this portrait and highlighting areas of  Vincent's own brush strokes in his sunflower painting shown below shows us the exact same things that is also in his brush strokes of this portrait of Margot Begemann?  Do you supposed that these artist's techniques of Vincent's are the things that a computer would single out of Vincent's entire oeuvre, of all his artistic lines and characteristics of the known works of his to make its computer comparisons of for rightful authentication conclusions?  I'd say just as the computer more than likely was used in creating the 150 year commemorative coins of his 1853, 150th birthday in the Netherlands, and come up with the correct analysis how to make his face using only the discombobulation of the letters making up his full name.  I believe this technology alone with many more new technologies in this computer age will in the future be the main ways for making true determinations and authentications of Vincent's works, along with who exactly other artists may have been, and also works of many other masters from the past.  These techniques may also include the finding of the fraudulent  copyists now making astounding livings from their trade.  Copyist should really consider a new profession,.... maybe a distiller or a brewer, or something like that.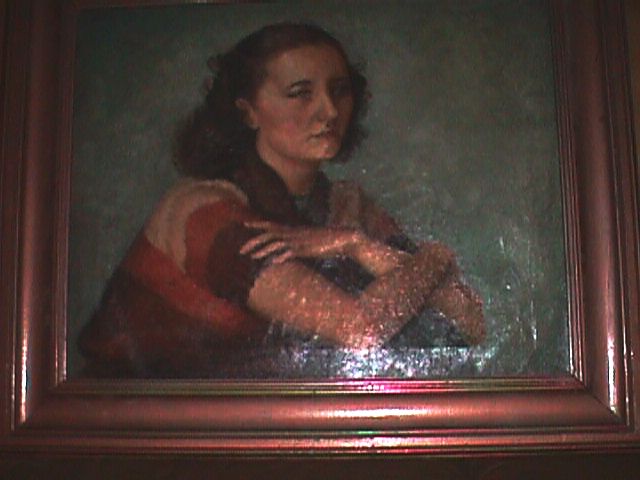 Well,... believe me,... this I'm showing you isn't the half of it,... there is so much more of his own techniques he used in creating his own works of art,... that it would be impossible to fool a computer,... say as it has been in the past of fooling the MFA experts.  I would venture to say myself that some were not really fooled at all,... just falling in line with the rich and powerful ones who are in control and just happen to be the ones making most all of the decisions in this MFA world of ours.  Simple as that!  I'm talking about the ones running all these family ran artist foundations by family descendents who thought that these works of art were not worth a shit.
All this that I've been showing and telling you is just a sliver of the pie my friends. I'm just showing you what possibly some will be able to see with their own eyes if they try real hard.  The majority of a computers work will be to reach a final conclusion, and more than likely would actually stupefy the audience.  The mathematical equation of what it see and compare would be magnified to a 400% to an impossible higher precentage that any human eye could even begin to compare and know what they were even looking at.  Simple as that my art loving friends, ones who care to bring back truths to this world of fine art of ours.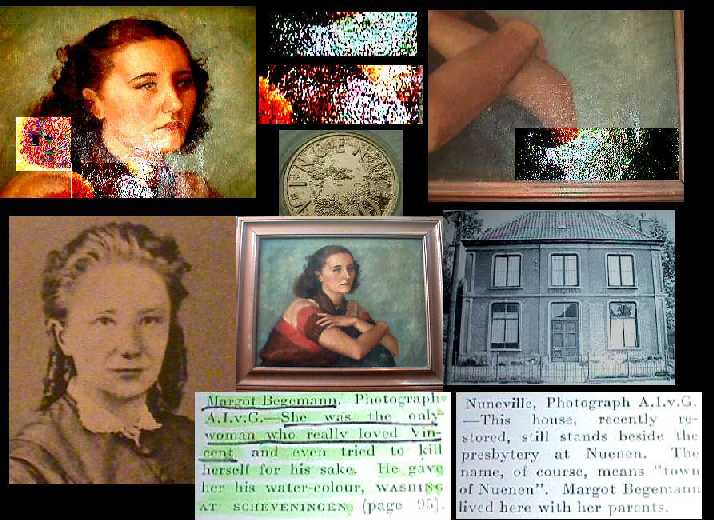 As you can possibly see yourselves the age difference, of the picture and the portrait painting,... one being of the younger gal, while the other being the full adult portrait of a woman in her mid thirties, the same age she would have been at the time of its creation.  For the ones of you who have seen knitted sweaters like this in the thirties and forties, I'm almost sure there are a few more just like them being worn today,... as well as back then.  More than likely it was knitted by her mother,.. maybe by her sister which was living at home with her parents along with her, or just maybe she knew how to knit herself.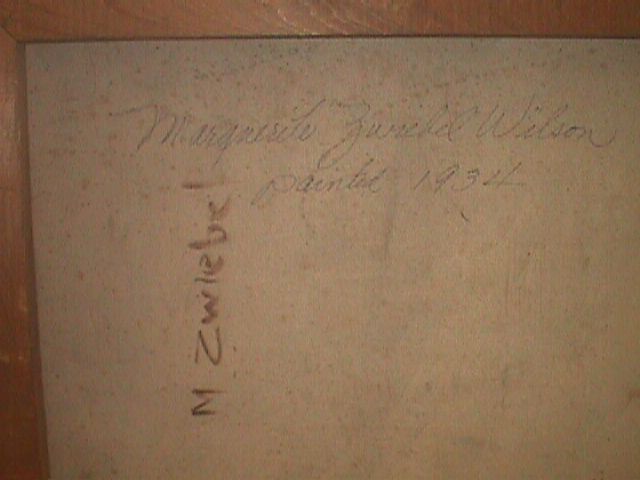 If someone anywhere else in this world who are familiar with genealogy, family trees, who would care to research Margot's married name after Vincent had died,... I'm positive they would find it to have been Zwiebel.  I'm also positive there are many who would believe it wouldn't make a damn bit of difference, for the experts of today would find a way to discredit it.  Let's say such as possibly saying after researching and finding this out for myself, I wrote these names there.  All of these MFA experts knows who they are and presumably know my true feelings toward them,... that I could give a shit less what they come up with.  I have read most all their own bullshit lies before.  Now in looking at the First written on name of M. Zwiebel, why would someone have to go on to make people think it was a portrait of the daughter of Margot by writing the name out wrong with an ink pen and her married name and guess about the year it was painted?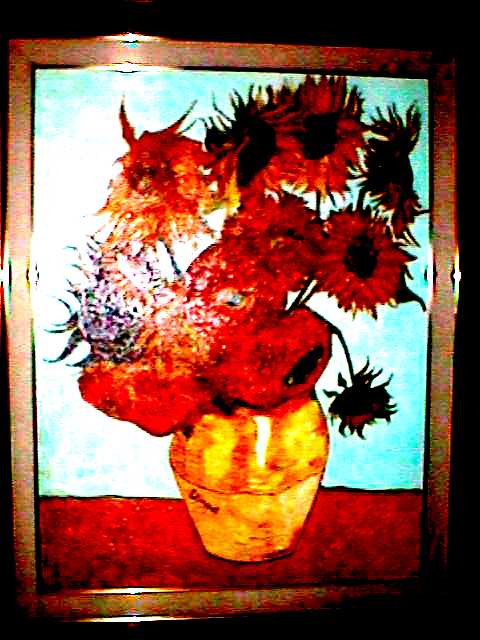 Are you people out there reading this starting to get the full picture?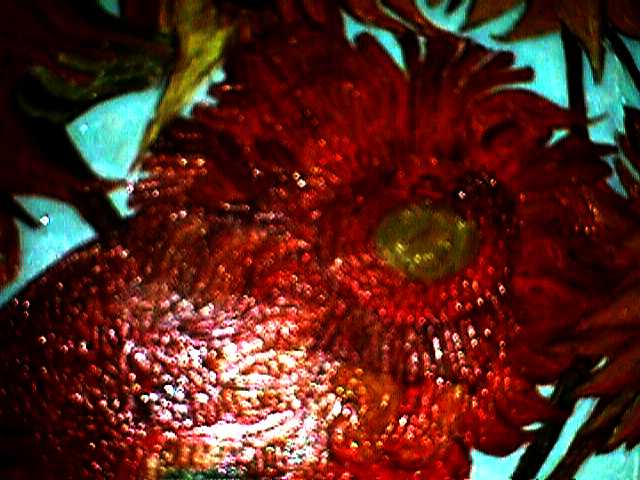 vanrijngo