Nice Halloween costume wouldn't you agree?
 I won a three day two night trip to Las Vegas, Nevada with this outfit on in a Halloween costume contest once.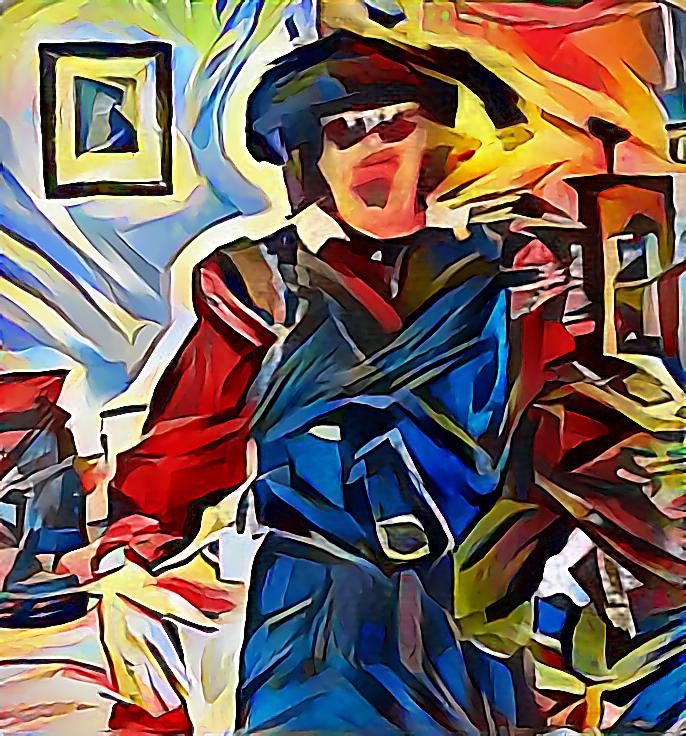 Enhanced Impressionistic Picture of Myself dressed as Rembrandt.
Can any of you see the light on in Vincent's room upstairs in this boarding house?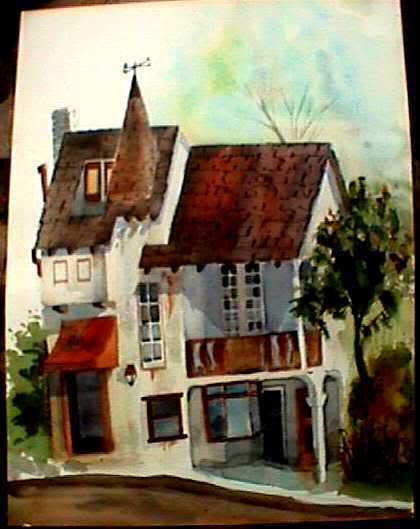 Vincent's 1st room at a boarding house where he lived.  In the fall of 1880, van Gogh decided to move to Brussels and become an artist. Though he had no formal art training as is said by art experts, his younger brother Theo, who worked as an art dealer, offered to support Vincent financially. Vincent began taking lessons on his own, studying books like Travaux des champs by Jean-François Millet and Cours de dessin by Charles Bargue.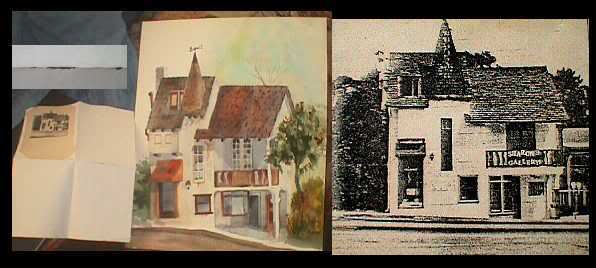 Oh yeah. This is one of Vincent's first rooms he rented in this boarding house where he stayed at in Brussels. This was after his preaching to the Miners failed pretty miserably. The rooming house was torn down to make room for a railroad overpass later on down the road. Yep I I heard this in a video on Vincent. The art expert couldn't say what it had actually looked like since he had never seen a picture of it other than kinda showing us where it was at where the train over pass was now at. You can see his lights are on in his room and he is more than likely in there painting and drawing his ass off at this very moment. I bought this work of art from Hawaii, and from an eBay seller selling the Litho print of the building along with the watercolor painting. In the litho print of the building it shows us it was a gallery of some sort some time after the original work of art being painted.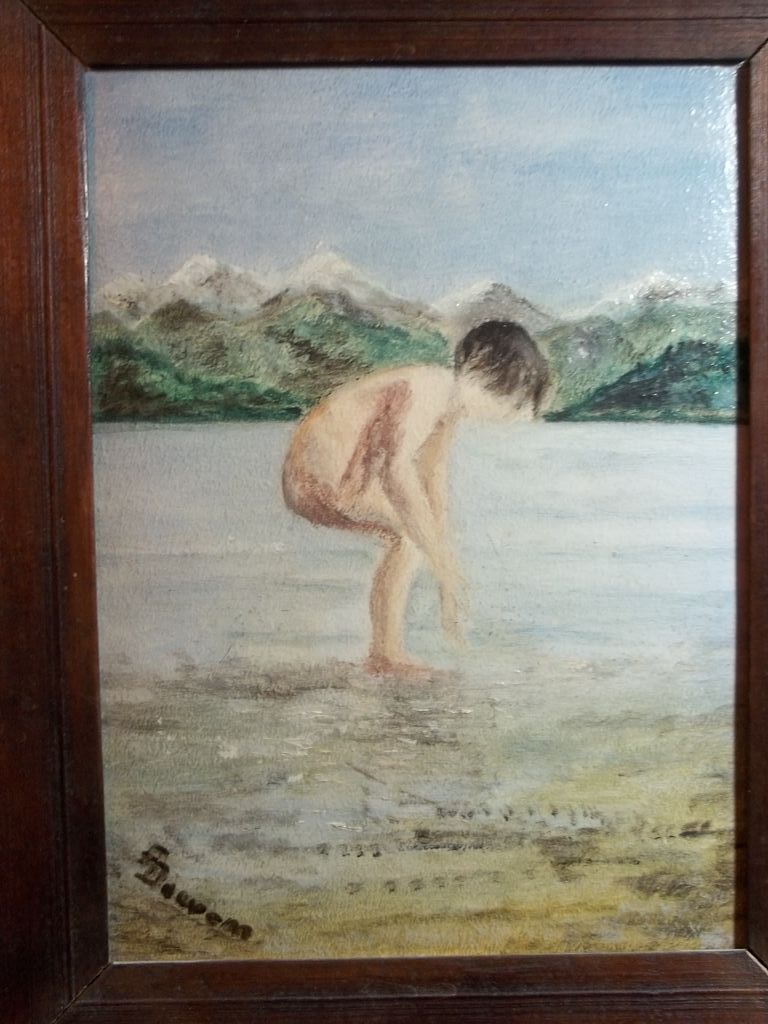 Does any one really care what was the real reason for Vincent's cousin Mauve's fall out with Vincent.  I think I seen it one time in a Vincent video where they had a young girl supposedly Vincent's Girlfriends Daughter going out in the water that really discussed the high a mighty cousin of his.  Well the truth is that Mauve came up behind Vincent at the dunes when he was painting and this was the painting on his easel as the daughter was out in the water without close on. Mauve just could not forgive his cousin Vincent for painting such a picture.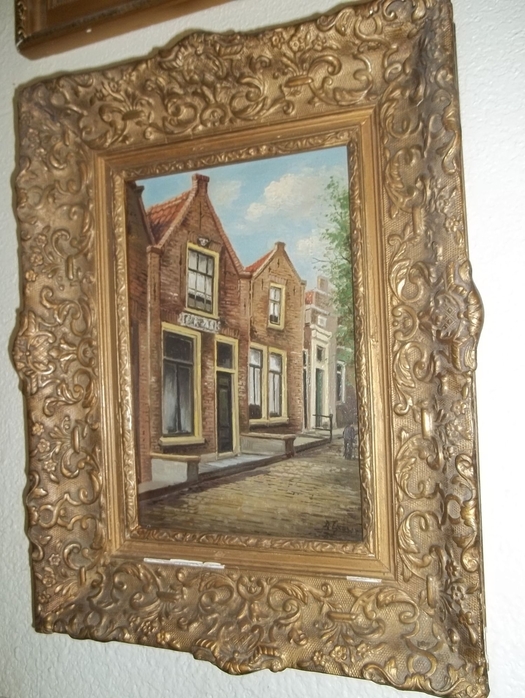 Now here is a nice little store front building in this painting where Vincent had his first art gallery business on the Catholic church owners property. Lovely little dutch painting I bought here in the USA from a Gay Dutchman who dealt in antiques who brought it over with him from Amsterdam to sell at a Larson Antique Show out of San Fransisco put on here in Boise, Idaho. Below is a pyro-work of fire-place poker art. I bought this piece from the same dealer from Amsterdam. It is a wood burning on a old oak solid wood panel which looks to be from the 17th century.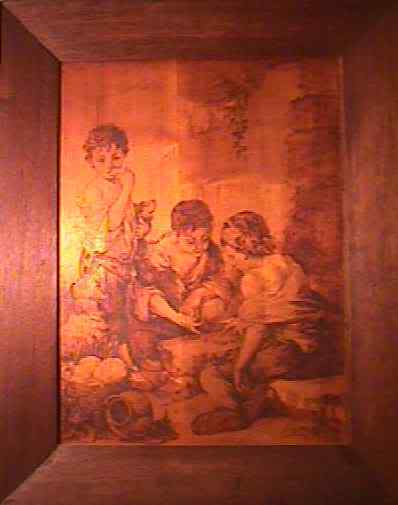 This original work of art is supposed to be of a Utrillo oil painting. I personally would guess this subject matter to be of another artist I know of. Let's say someone's mistress named Hendrickje. This would be when she was younger and with her older brother along with both their younger baby brother.  It looks like they were playing a game or throwing dice.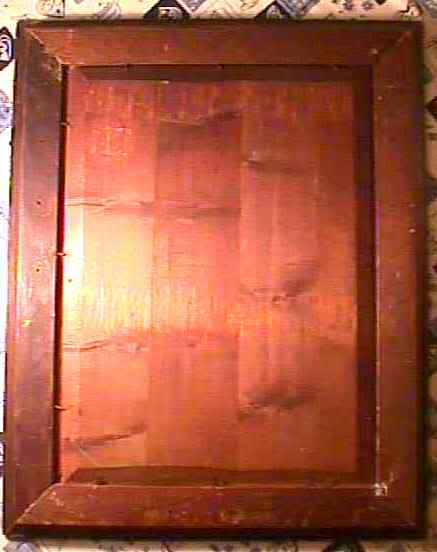 Sorry for the slippage! I slipped in another artist's work of art.
Yep,.. here above are those same out buildings where Vincent himself is confronting this church decant bastard, "Tom Browne", the asshole, and about his denying his own flesh & blood. Vincent came along with the young girl and her baby to confront him. You can believe it or not,... this was the Fucker who said it was Vincent's baby, and this is what started that old saying,... "John Brown,..! I'll knock ya' down,... not up!" 
This is the Church Decant Tom Browne who knock up this little Dutch model of Vincent's, and was painted by the one and only.  She was from the Catholic Church and daughter of a family Vincent was friends with and used for models of his "Potato Eaters".
The other picture is of his landlord of this out building he used as an art gallery on the churches property. Tom Browne spread the rumor that Vincent was the father of his models baby and the landlord said he had to get rid of Vincent due to the members of the church and their out cries. They wanted this artist out of there and off the churches property.  You can see Vincent making his case with the owner of the property saying in this painting that all of his own eggs were in one basket.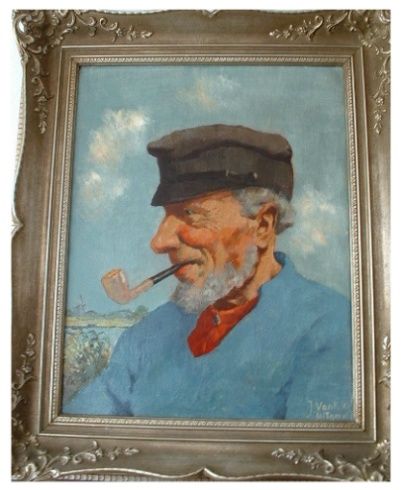 This I believe is an oil painted portrait of his Dutch landlord of his first art gallery business.  It has been fictitiously signed either by Vincent or possibly someone else.  I want to get this straight with all the readers of my blog.  Vincent & his art dealer brother Theo had made a deal and a Business agreement one afternoon at the old mill over a couple glasses of milk.  Theo had agreed to support his brother Vincent until he started to sell his work of art in the gallery he was working at of his uncle Cent & partner. In his bothers Vincent's so called learning period, he was to send Theo his very best works of art and he could sell & trade any of the rest,... but was not to sign them with his own name to keep the brothers agreement in-force.  This agreement of their' was sealed with a handshake.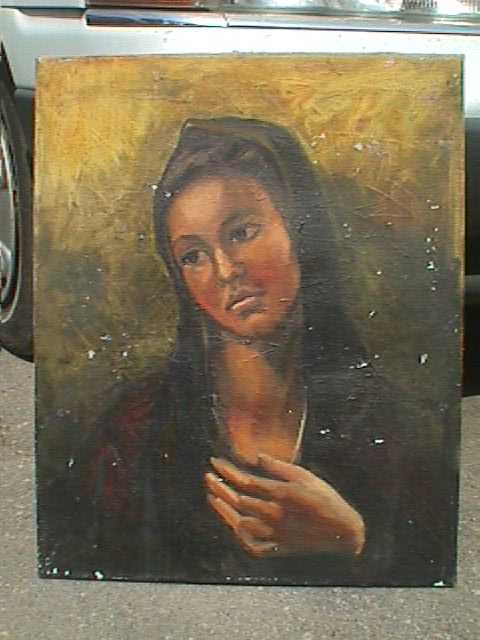 Here is a painting of this young Dutch girl who got herself into a little trouble by letting herself be taken advantage of when it came to making love. Yep,... this was the little sweetheart the members of the Catholic church were calling Vincent's little dulcenea.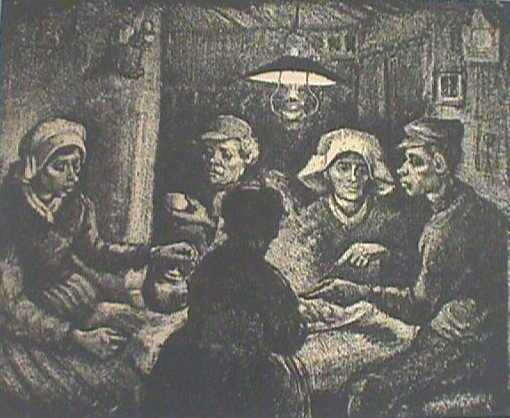 Here above is the same girl, her father & mother, aunt & uncle at the dinner table. She is standing there in front of them, all the while the father is making accusations while the mother is saying how sweet it would be to hold their little grandchild.  Meanwhile the aunt & uncle are trying to remain neutral as these very trying times present themselve.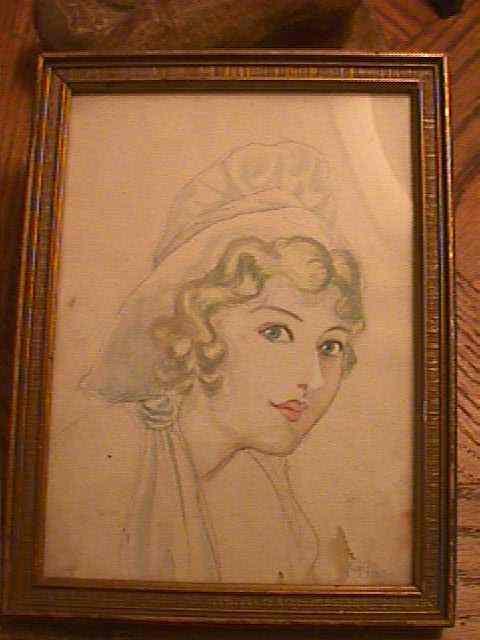 This was the nurse who was kind enough to get Vincent some art supplies. so he could continue making art while being in the hospital recovering after cutting off his ear.
Again it is sign, but not Vincent's name. It is signed in the blood that was from where his ear had been.
Here is a drawing of the nurse done in graphite.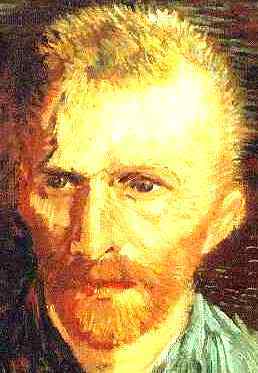 This portrait is on the backside of a study of the potato eaters. Now if you look really close you will see how much ear Vincent had cut off in this first bandage change by Doctor Rey.  Vincent had painted this portrait of himself on the backside of a drawing of the Potato Eaters. The drawing was one he took with him back to the hospital after they letting him go back to the yellow house for the first time after he had cut off his ear on the day before Christmas.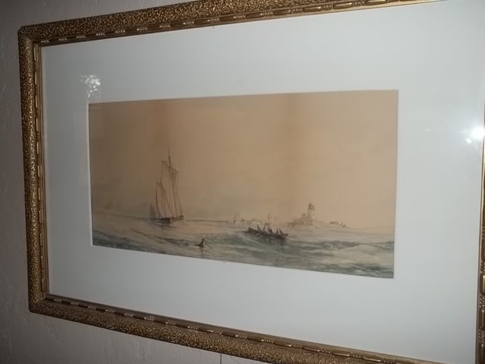 Now here is a masterpiece drawn by Vincent van Gogh and signed Vincent and dated 1888.  This had to be one of the ones that was talked about in his letter to Theo about three or four drawing which were going to be offered to someone they both knew for at least 50 francs apiece.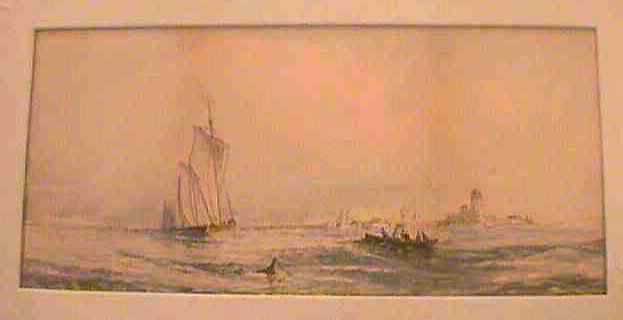 Like was said,.. these were read pen drawing & watercolors done as the old masters style like Hercules Seigers or Rembrandt would have done. Vincent knew how to do copy many old master from the time he himself had worked for his uncle Cent before being sacked after six or seven years of Vincent service to them.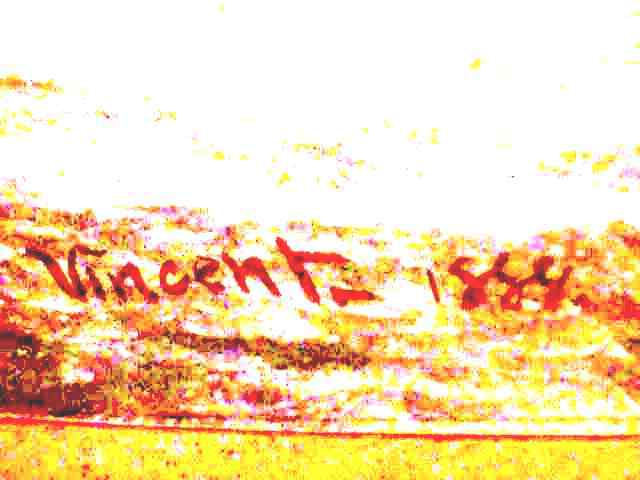 This right here is one of the best examples of Vincent's signature areas and his signing technique he used when not signing his real name. This particular one was signed because it was one that Theo agreed that he should sell to a friend of theirs, one of six drawings for 50 francs each.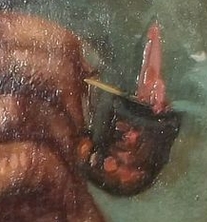 This is definitely Vincent's play with paint as he painted the flame of Gauguin's match as it was lighting his pipe.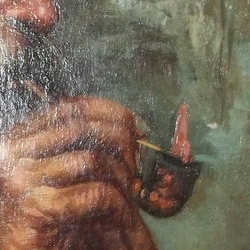 Gauguin's match as it was lighting his pipe.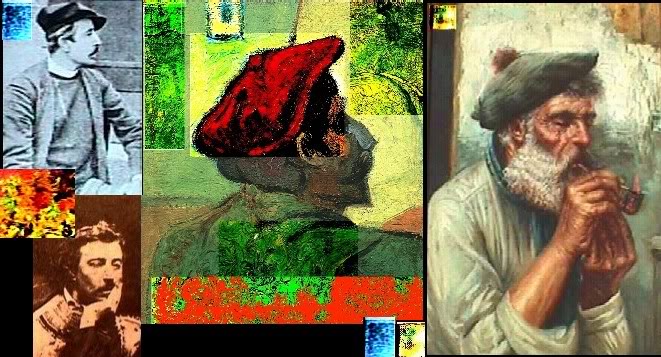 You can see the same posture of the two left hands of Gauguin's in this picture and in the painting by Vincent.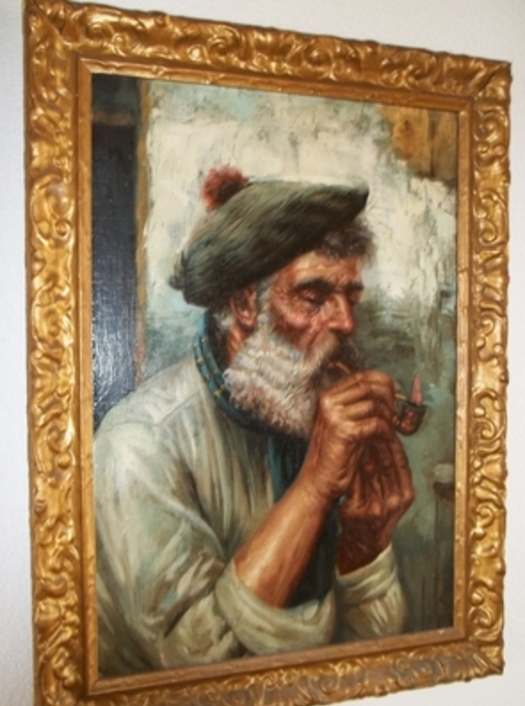 Right up to the top left you can see the change in the paint at the top left along with the edge of the canvas nailed to that board just behind the artist Gauguin who is taking a smoke break from painting on that canvas he is painting.  You can see he has his Shirt sleeve rolled up to keep from getting paint on his shirt.   .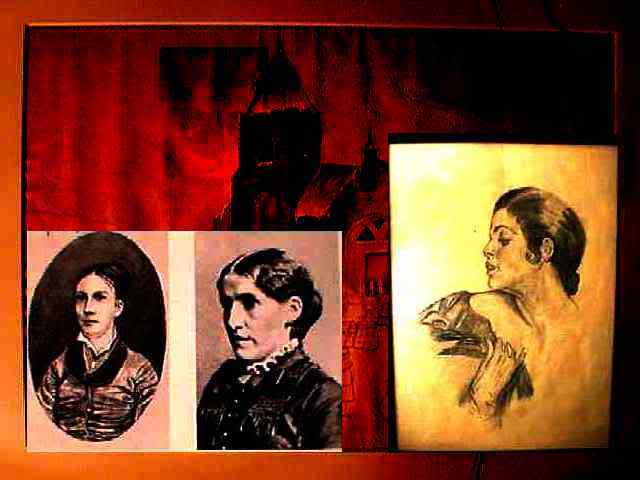 First picture is Will Vincent's sister. Second is Kee he cousin. the third picture is a drawing of mine Vincent done for his cousin Kee after her husband had died  and left her with a eight ten year old boy. This was drawn by Vincent when the two, her and her son was staying with her aunt and uncle, Vincent's parents while Vincent was living there also.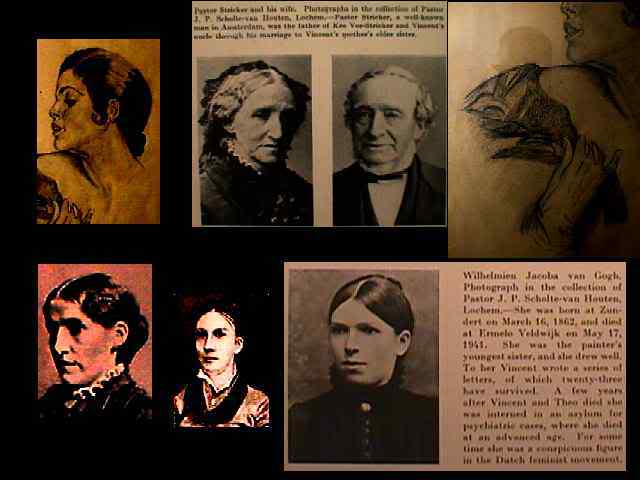 Kee and her parents along Vincent's sister Will. In the Upper right hand corner you should be able to imagine the word Kee or tilt you head the other way and see a portrait of Vincent winking at you with that gloved hand being his.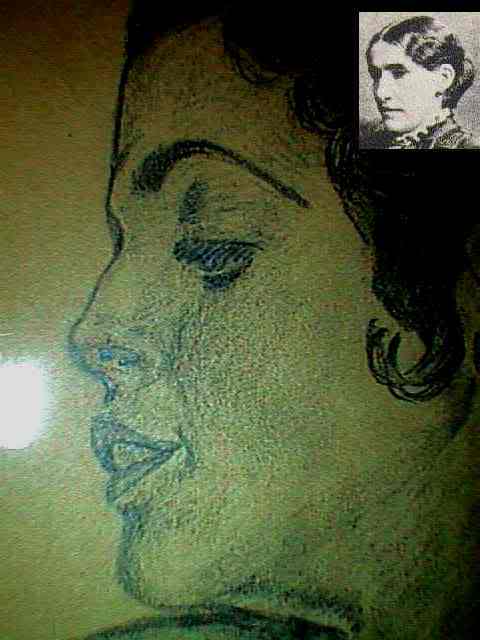 You can tell in the comparison How Vincent was exact on what he seen and made no variations to improve a persons features,... he just drew what his eyes seen.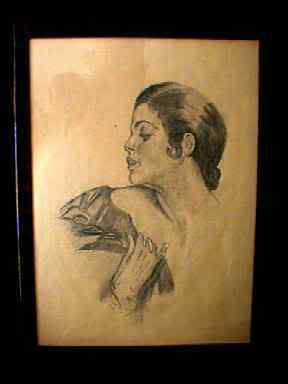 Only variation that he did was his hidden imagery such as Kee's name and then while seeing an image of himself and enhancing it while adding a gloved hand for a little excitement. These essences will cause one with good imaginations feel the feeling the artist was feeling but still will not see with out a little knowledge from someone who knows and can see.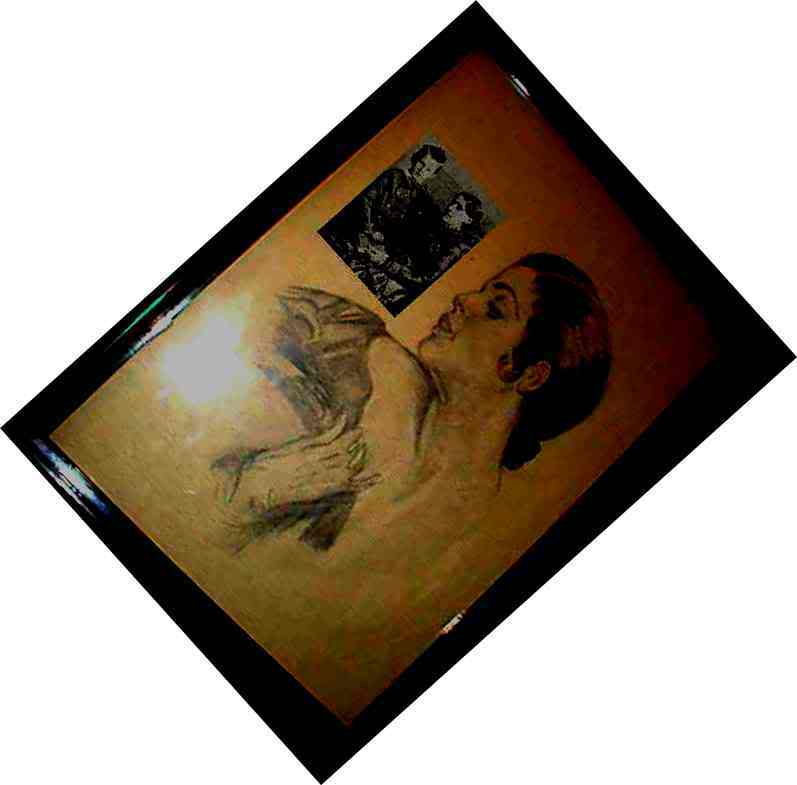 This drawing turned at this angle will allow just maybe a few to actually see what it is that I'm saying about Vincent's hidden art work.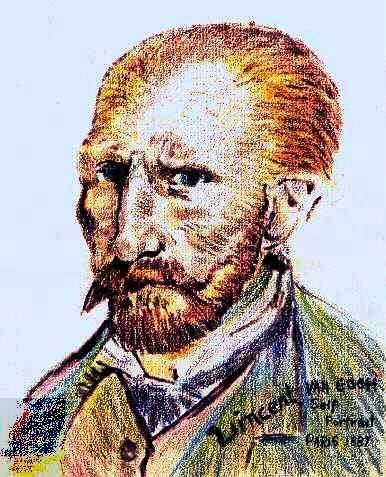 Colored pencil portrait of Vincent van Gogh I was able to buy on eBay back at the turn of the century.  I myself know it's by Vincent's hand movement and has all the characteristics and  idiosyncrasies used in him creating his works of art.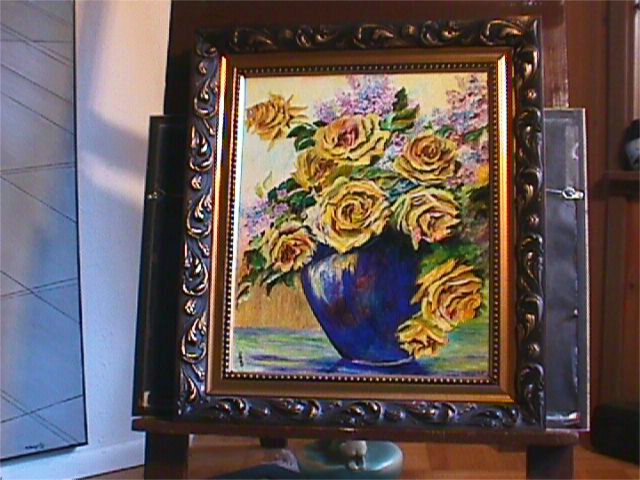 Oil painting on canvas Board of Vincent's vase of yellow roses. This painting sold at the Photographer studio where Vincent worked in Paris.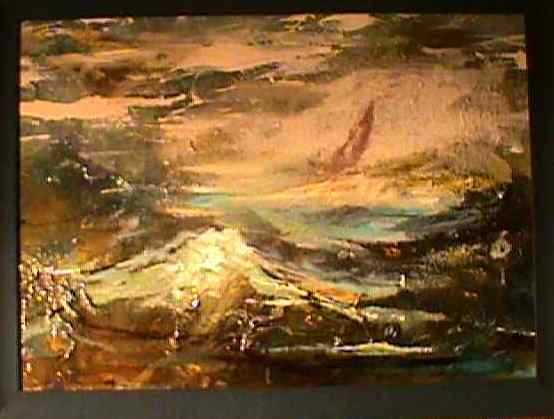 Oil on board of Vincent's Christ & Peter in the Storm of the Sea of Galilee, very similar to the drawing below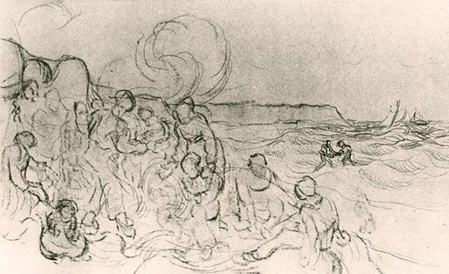 A Vincent van Gogh drawing of Fishing boat  & two out walking on the water while a group of people are on the shore with a storm brewing in the distance.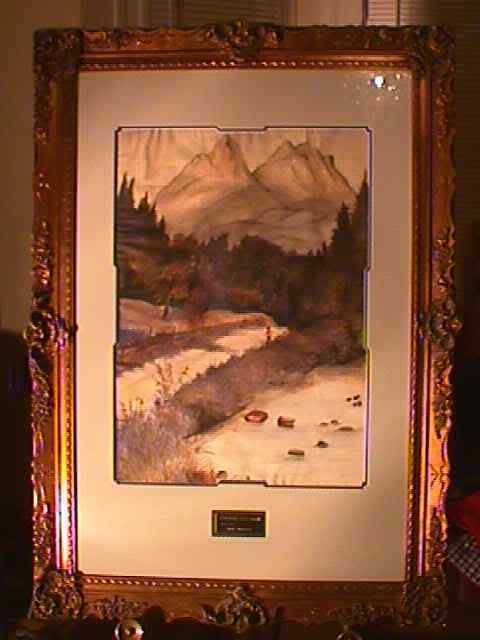 The main side of the watercolor of Vincent's "Long Walk Home" from Amsterdam to Nunans.  This was after holding his hand in the flame of the lantern at his uncles house.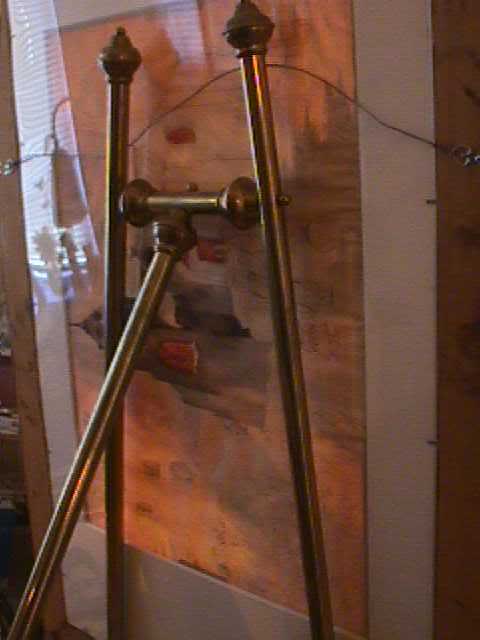 Let's just call this one "High Hopes" or remnants of No! Never never girl when asking for her hand in marriage and receiving her  refusal from his uncle!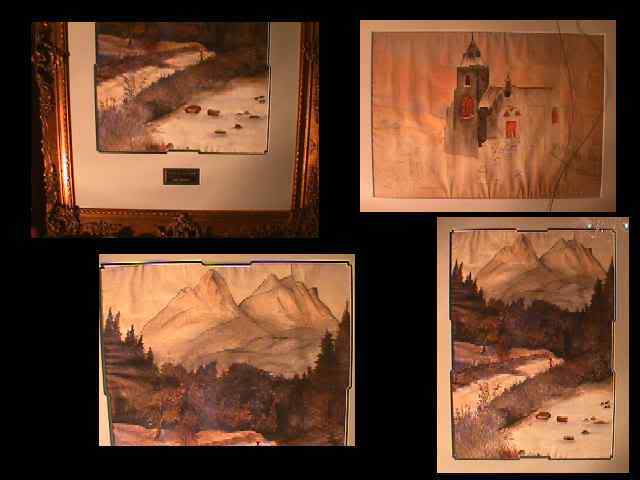 Both sides of Vincent's Watercolor and the back-side not finished.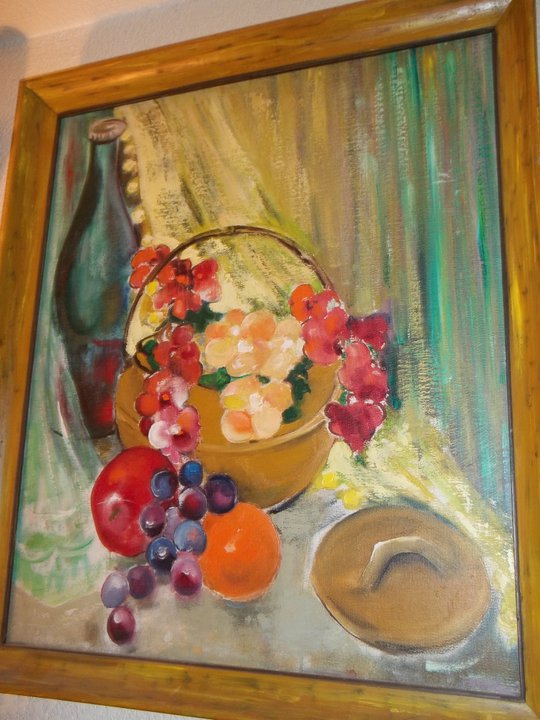 Vincent's oil painting on canvas of all the fruits of pleasures in a painted frame using the same paint that he used on the canvas.
Vincent's self-portrait as if he were Rembrandt in a previous Life.  As Vincent said many times that he very well knew this artist Rembrandt.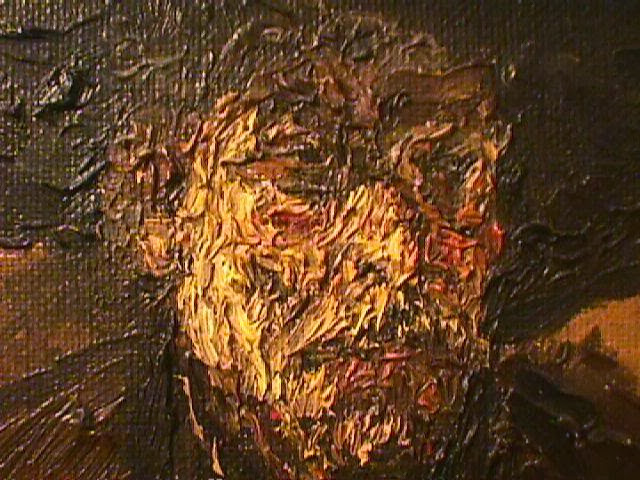 This close-up of the portrait shows us his laying on of the heavy paint of the emposto along with his brushstroke he so often used.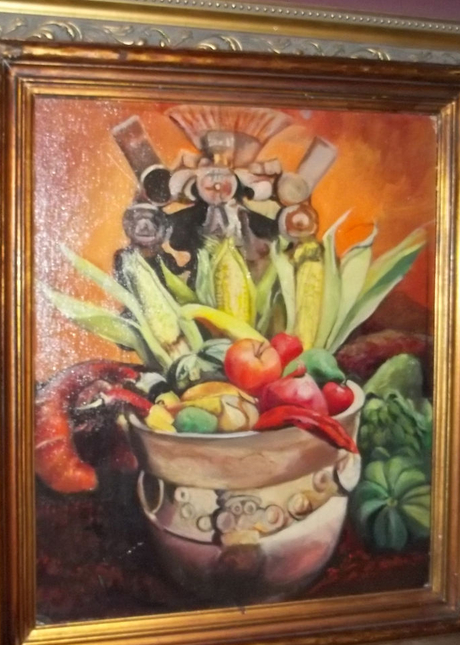 A metaphor of Vincent painting handing ones ears if they needed a ear to hear.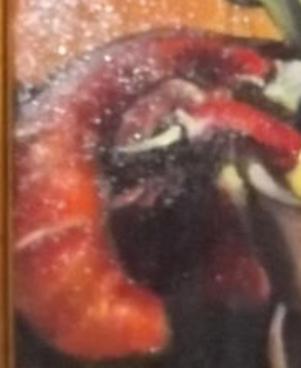 Now there is a straight on look by this artist!  Why do you think Vincent had most all his portraits looking to the right or just a flat right side viewed self-portrait?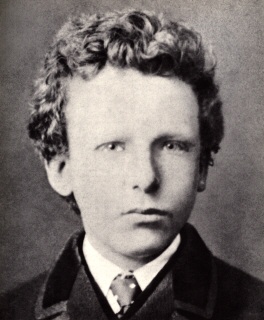 Here above this picture is a close up look at the ear that he had cut off and had given to the prostitute and the tool in which Vincent had cut it off with. Since this painting was painted by Vincent, that alone should tell the van Gogh art experts at the Foundation how much he had really cut off.  Now after viewing this complete ear examination one needs no imagination when looking at these bottom self-portraits below the one showing us a portrait with both his ears.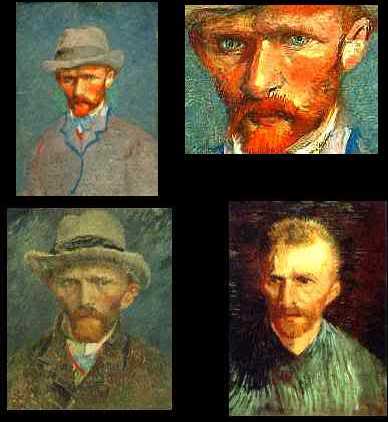 These two bottom portrait are as close to being straight on looks as they can be according to the comparison position of the facial features from the one on top.  I get so irritated every time one of those Foundation art experts say in their videos it was just an ear lobe that was cut off by Vincent.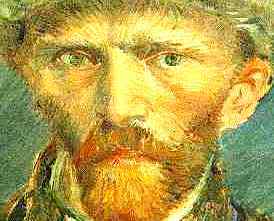 This portrait here I'd say was Vincent's last self-portraits he painted of himself at the age of thirty seven, how he looked when seeing his bother Theo in Paris for the last visit there.  This would have been after his final visit with his brother Theo and Jo his wife and their baby, Little Vincent Willum van Gogh they named after his uncle Vincent, the painter.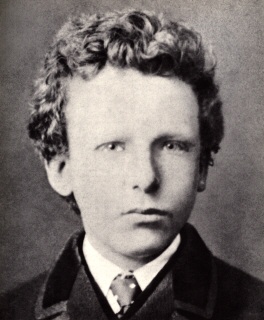 You can see for yourself in this picture of Vincent how in this straight on look of his shows us how much bigger his right ear appeared to be. Now in both of these portraits supposedly painted 1 & 12 years before he cut off his ear seems rather miss represented woudn't you think?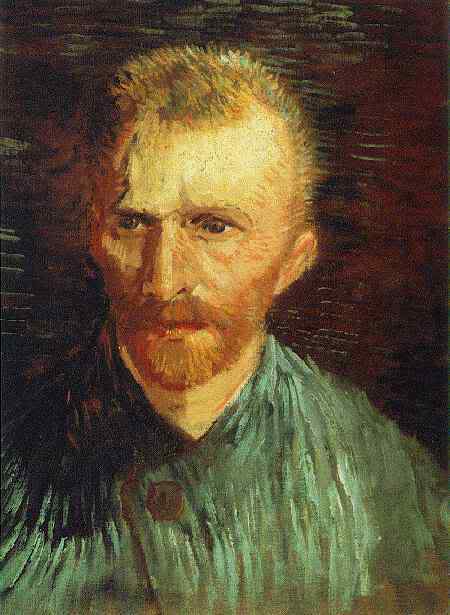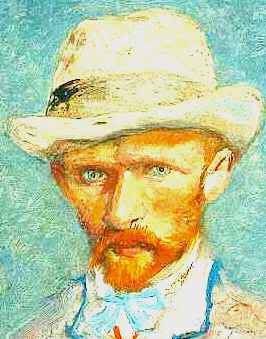 Now in this earlier 1885 portrait with him looking in the direction that he is looking you can clearly see both of his ears.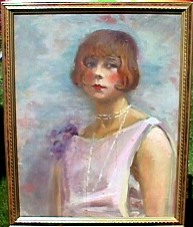 Vincent's oil on canvas of Willemina Jacoba van Gogh normally called Wil.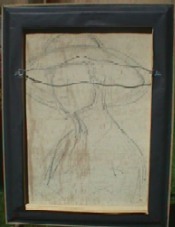 The back-side of canvas showing us a charcoal sketch for an unfinished work Vincent was going to paint, possibly of the same sitter, his sister Wil.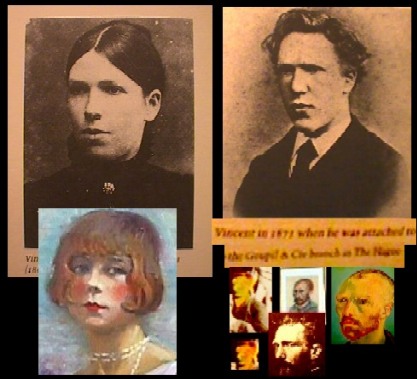 Comparison photos to the paintings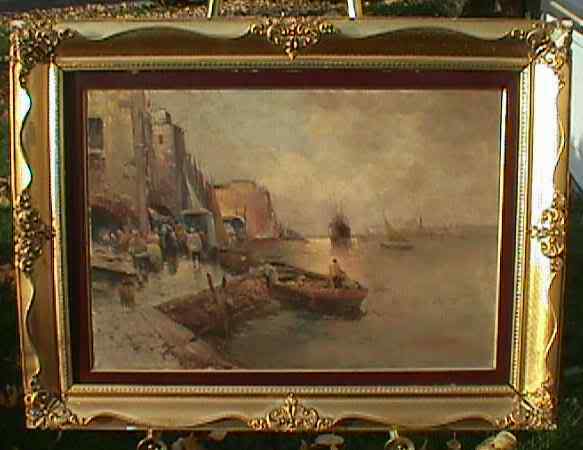 Vincent's oil on canvas of "Amsterdam's Fish Market".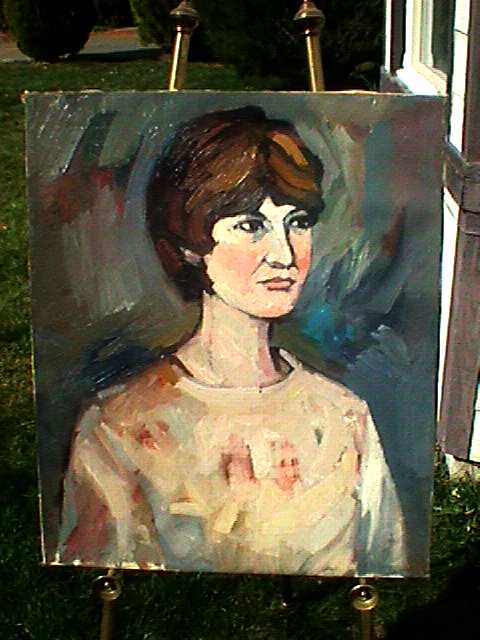 Vincent van Gogh's Portrait of Adeline Ravoux (Auvers, June 1890 and given to her for her sitting for him.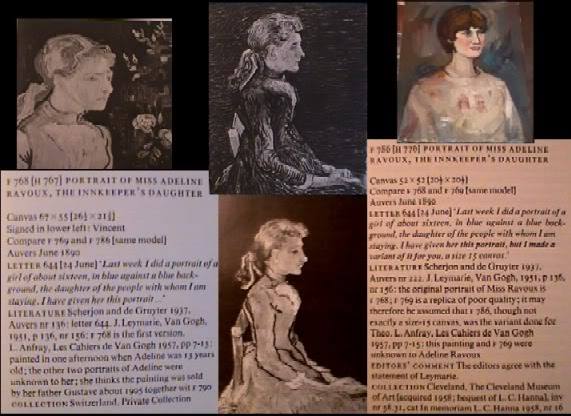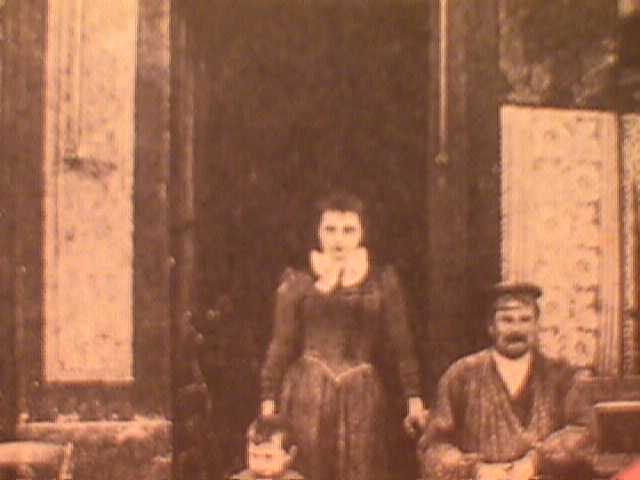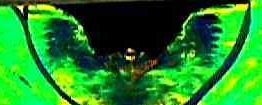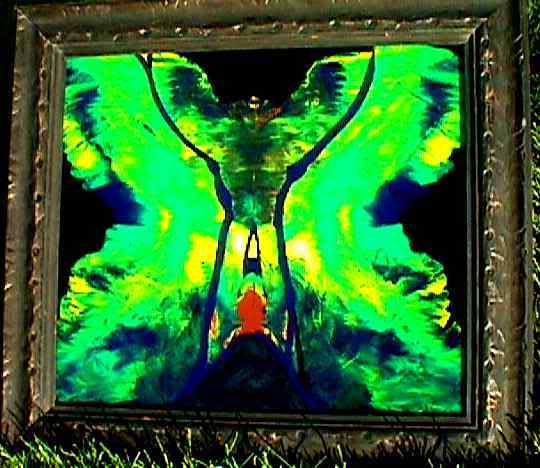 Vincent's reverse oil on glass of a Death-head Moth which could be hung any old way you wanted to hang it.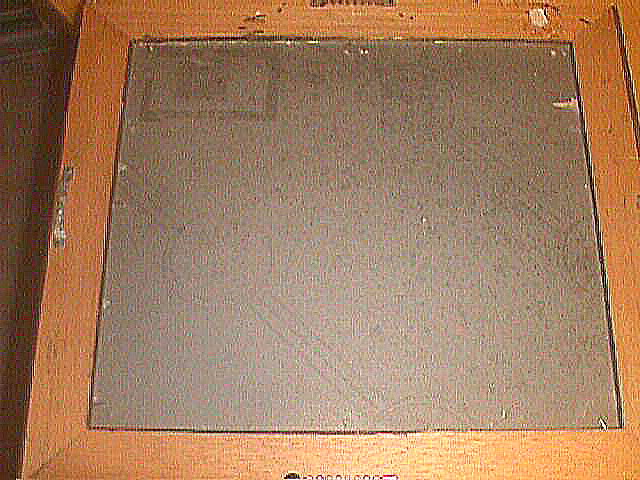 Hangers on all four ends of frame of the reverse painting of the moth.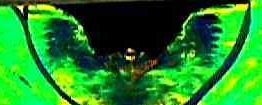 The flying crow is in the moth and was one of Vincent's signs of death.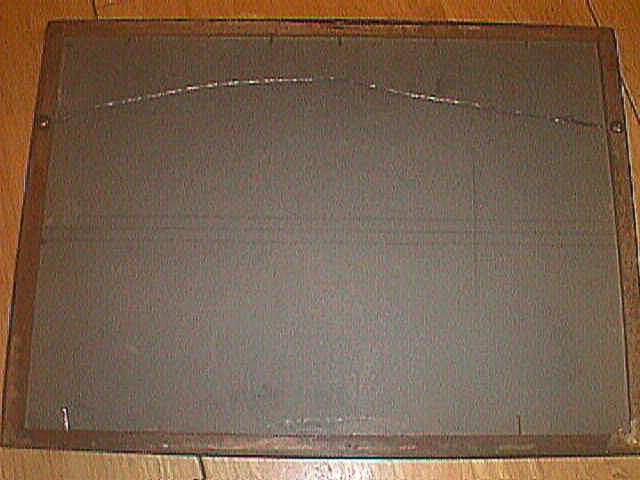 This is most likely cut from the same cardboard used for backing for the Moths painting as for this drawing below.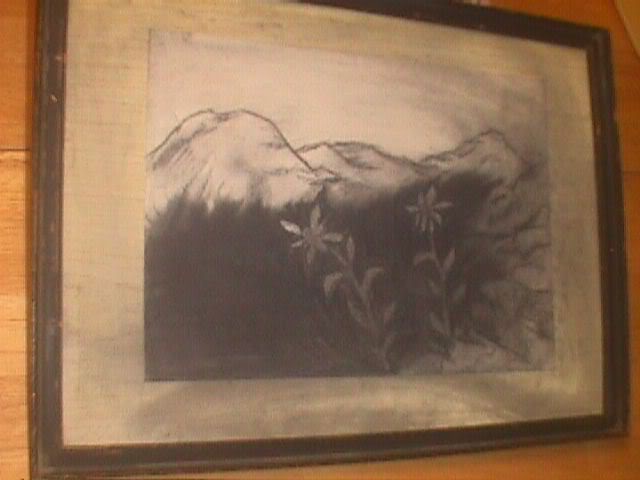 Charcoal drawing of the hills representing the two brothers and the two flowers also.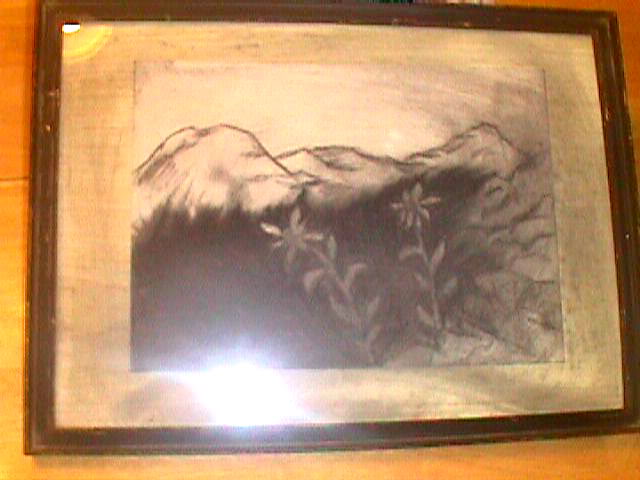 Vincent did say there is actual color that can be seen in black & white.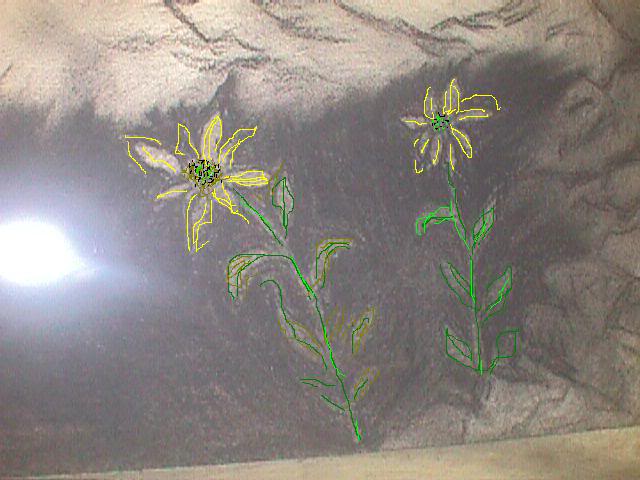 This I enhanced myself to show you where to look for the color if you can't see it yourselves.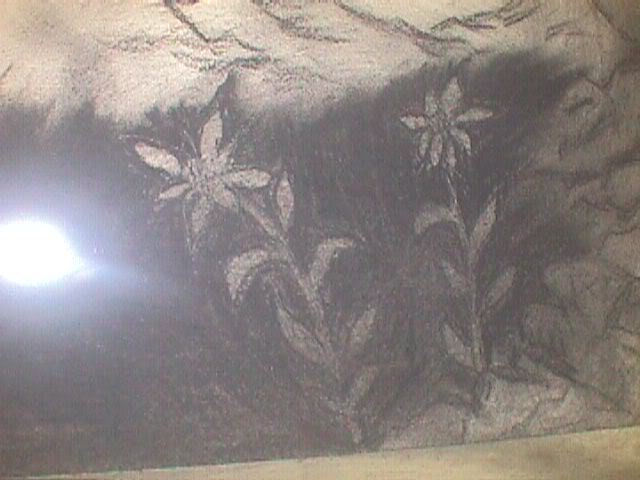 What a Color Genius he was.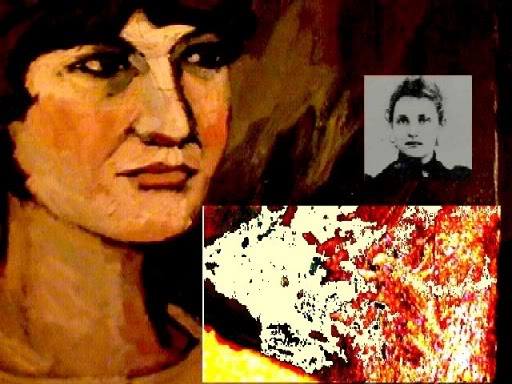 Vincent van Gogh's Portrait of Adeline Ravoux (Auvers, June 1890 comparing to a picture of her. Vincent gave portrait to her for sitting for him.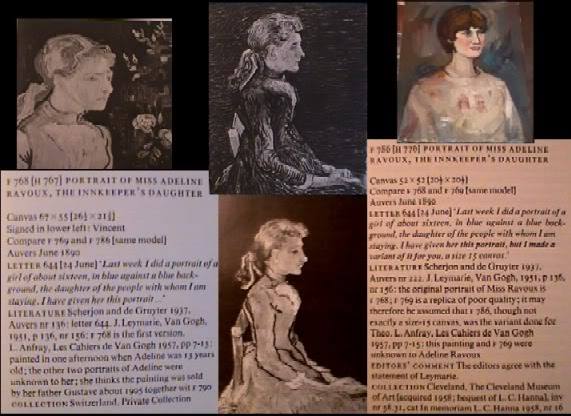 Portraits of Adeline Ravoux (Auvers, June 1890 from book on Vincent.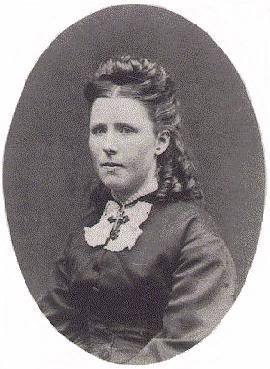 Picture of Anna, Vincent's sister.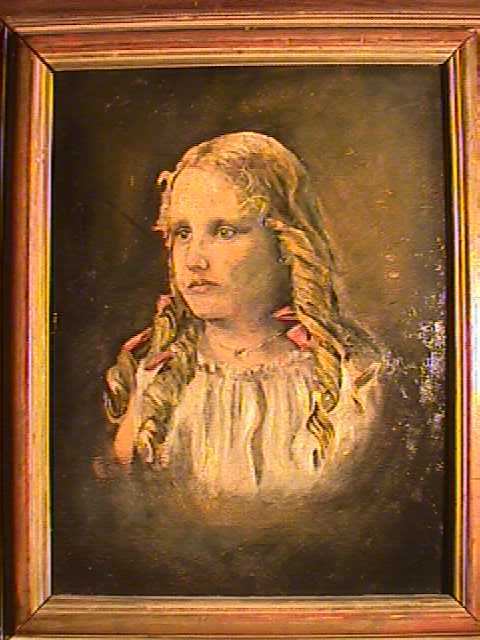 Oil on artist panel of Anna, Vincent sister painted by Vincent in 1862 when she was only 7 & Vincent was Nine.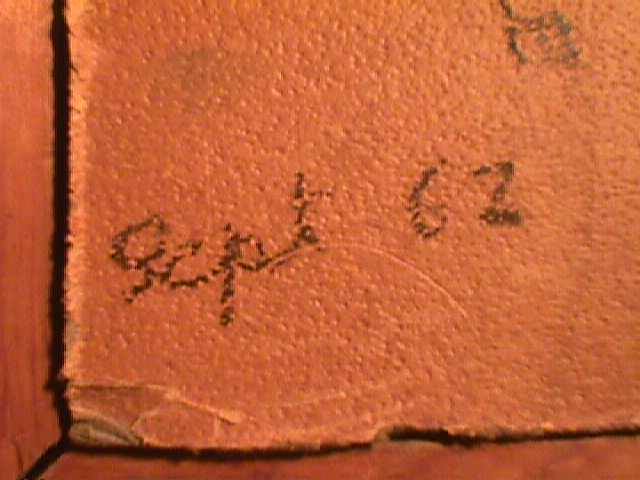 This drawing of a horse in a barn yard is dated Sept 62 so the portrait on the other side should be around the same time period.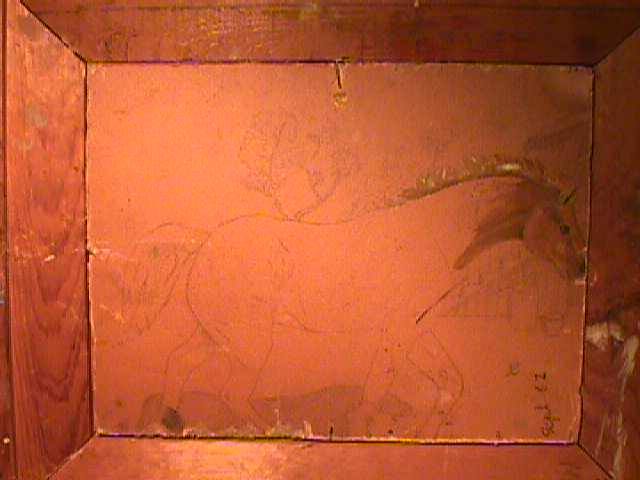 Such a talented artist at such a young age to prepare himself for his destiny.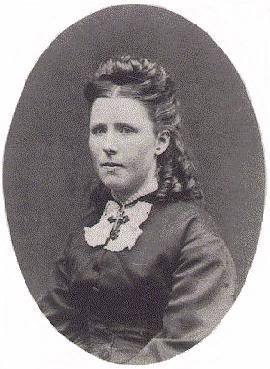 Again Anna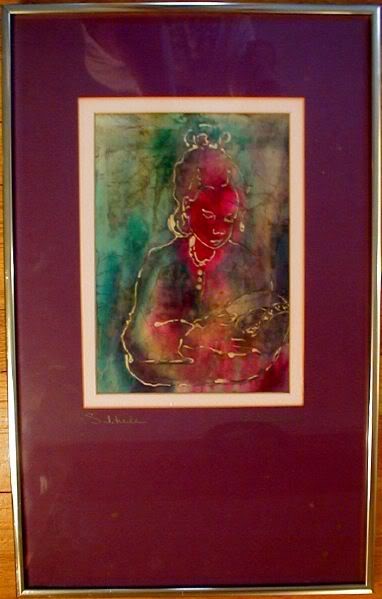 Oil paint on cloth like tea towels of Johanna Gezina "Jo" van Gogh-Bonger.  This painting is signed G.L. Seivers and named Solitude.  Thank God it was signed just on the matting and not on the art work itself.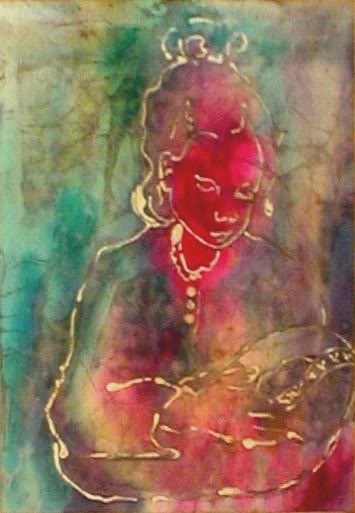 I don't see so much solitude, fore I see the young mother Johanna holding her baby child little Vincent W. van Gogh in a motherly way.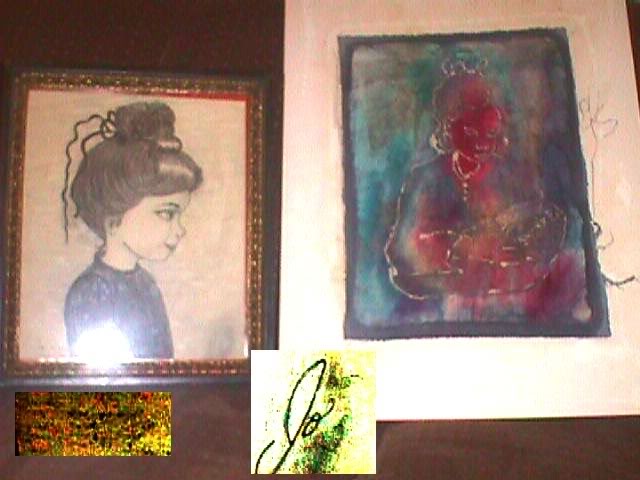 Here we have another drawing of Jo  drawn by Vincent van Gogh

Here is the back of Jo van Gogh holding little baby Vincent,...
This being the cut out of Jo's Wedding dress below of her and Theo's W/C wedding picture by Vincent van Gogh.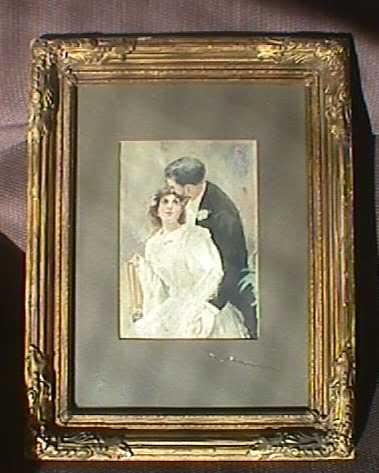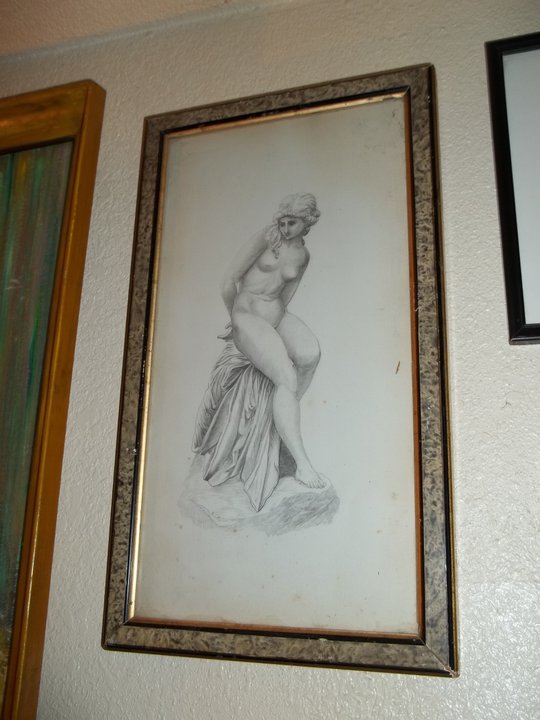 God damn you! You MFA experts do not know what a woman's body should look like!  She should have hips and a buttocks large enough to hold a child! I do know most of you can't see her in her flowered hat with her arm over her little one rapped in his blanket while kissing him on his forehead.  Come on,... squint your eye lids down to veige out the essentials to be able to see this work of art he created.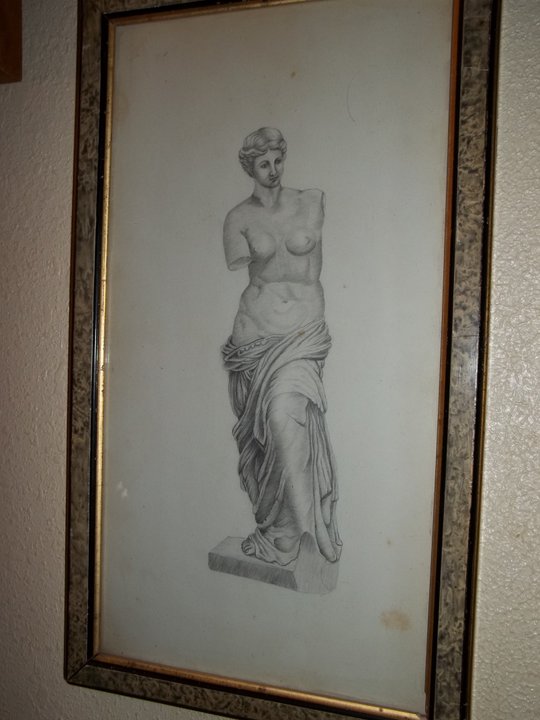 Vincent saying,... just look at this proud graduating art student with his head laying back with his robe thrown over his shoulder and the one eye drawn as the belly button looking straight at us. Vincent is looking at us right over his pointing elbow while his hand would be upon his hip.  Such an imagination one has to have to see Vincent's true works of art.

So loving of Vincent to paint such a wedding portrait of his brother Theo & Jo.

Yes in this time period 1887-8 Theo had a lot on his mind according to his brother Vincent who was working at the time on the side in a Photography studio.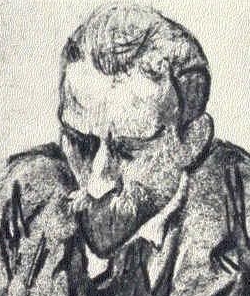 You can almost see it in this drawing of Theo and including his forehead,... supposedly drawn by Meyer de Haan according to the V.v.G's Foundation experts.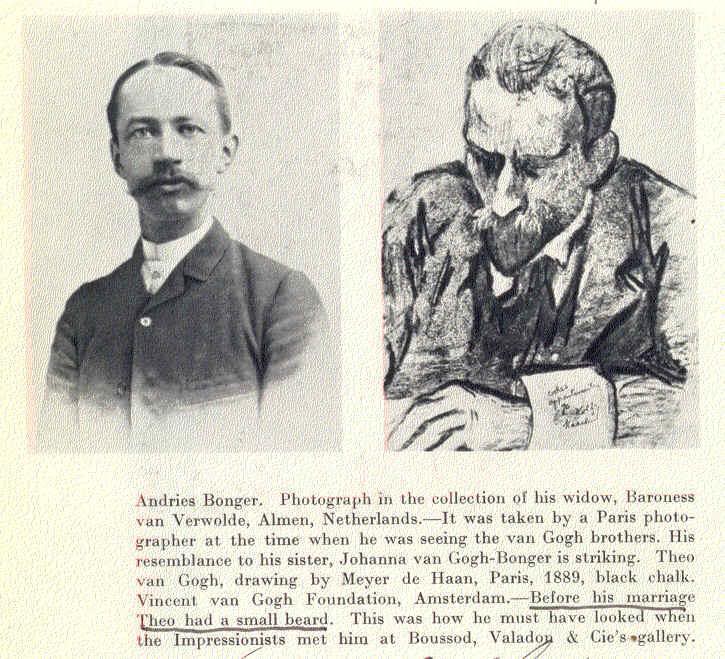 You can see how every little thing is falling into its place I'm sure,... Just as Vincent would have like it to have done when he was a live.  Only thing is, not one would listen to him when he spoke. They would turn their deaf ear toward him and walk away.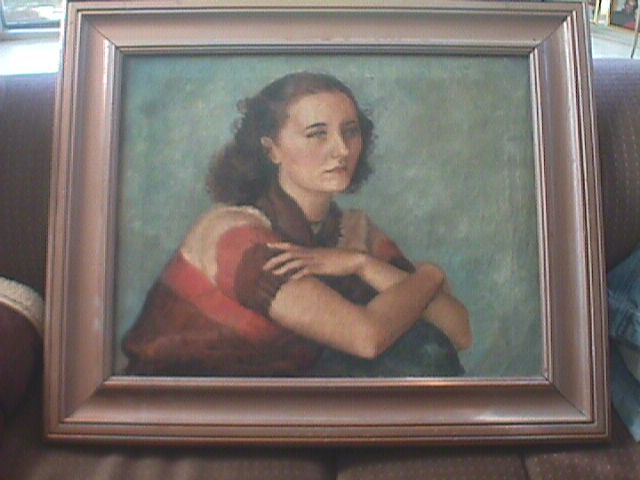 Now you take this woman here, a little older an wiser, she would listen to him and she began to understand where he was coming from.  She was the only woman that actually loved Vincent & and almost gave her life up for it.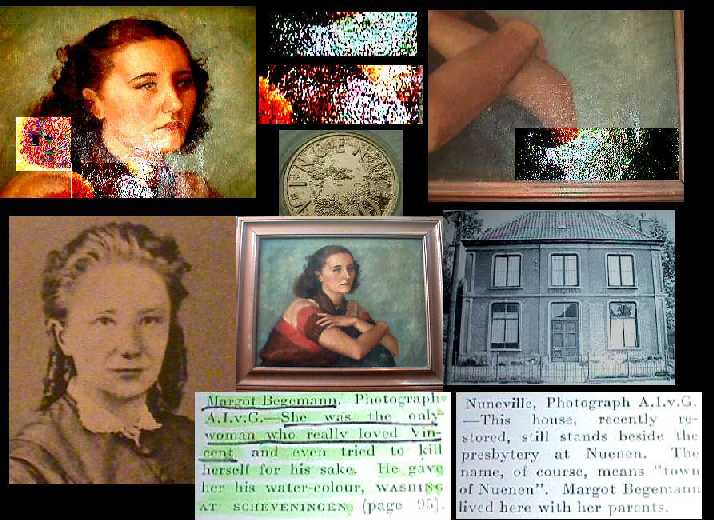 The art experts say he gave her his W/C but failed to mention he did a oil portrait of her and gave it to her at no charge.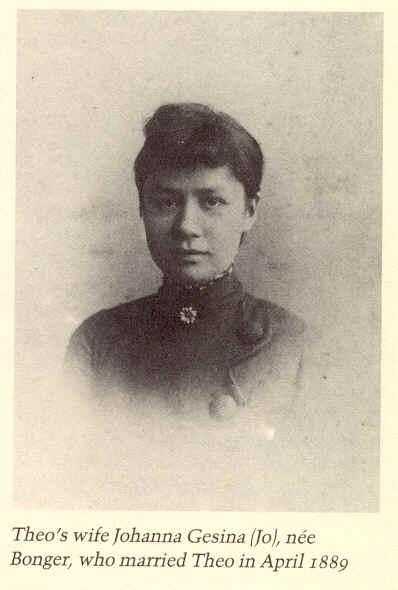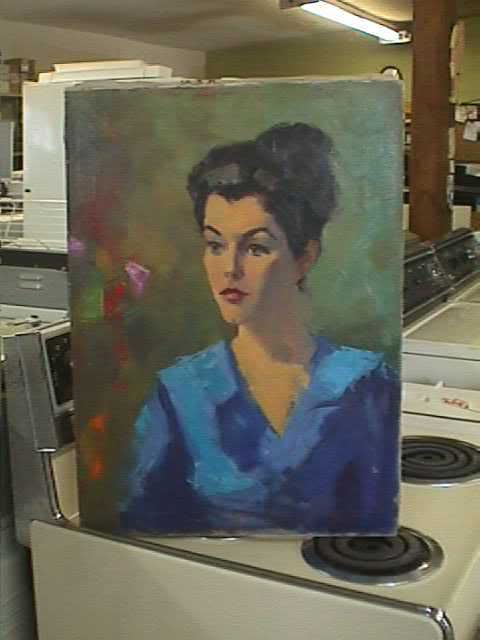 Now here is a site for sore eyes!  Found this on eBay in 1998 from the Art Man. This happening was way before the Vincent van Gogh Foundation's x-ray discovery of the unknown woman that's under the painting of their own painting of Agostina Sagatory of the Tamborine in Paris.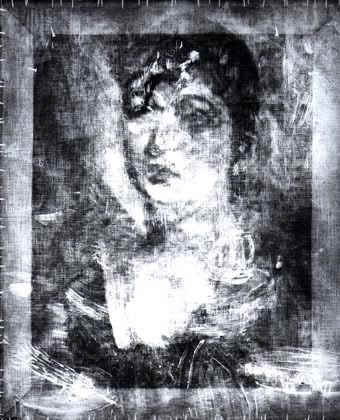 What a silent F#$&()(@ story this whole thing turned out to be!  The MFA experts at the Vincent van Gogh Foundation refuse to talk about this discovery of their x-ray. Much earlier in 1998, the Bitch working for eBay pics that I out-bid on the painting I bought sent me an email right after I had bought it.  She told me it was a spitting image of herself and she could send me her husband & her wedding Picture to prove it.  She said she didn't bid high enough at the end and ran out of time to bid higher and she told me to let her have it as the final bidder.  I immediately emailed her back telling her I wanted that painting and if I ever decided to sell it that I would give her first option to buy it. A half an hour later The Art Man and I were both thrown off eBay, I as his supposed Shill.  I then emailed Meg Ryan of eBay and told her that I'd like to introduce myself to her as her new partner before my attorney gets in touch with her.  Needless to say I was the fastest person ever to be reinstated on eBay. I can't remember for sure, but I'd guess in less than eight hours and the art man took about 4 days. He never did know what had happened.  I might have been better off going for the partnership. LMFAO!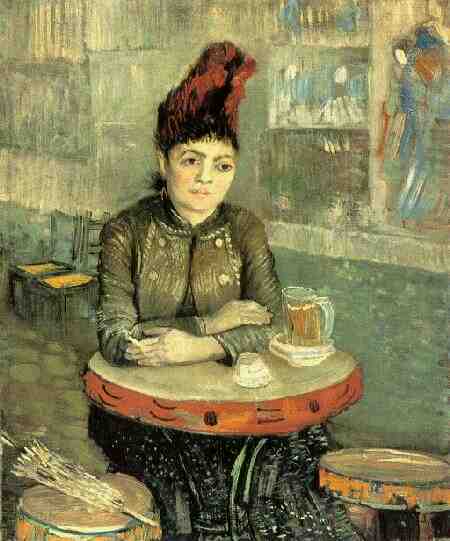 Yep,... this is that same bitch that worked for eBay pics,... only in another life.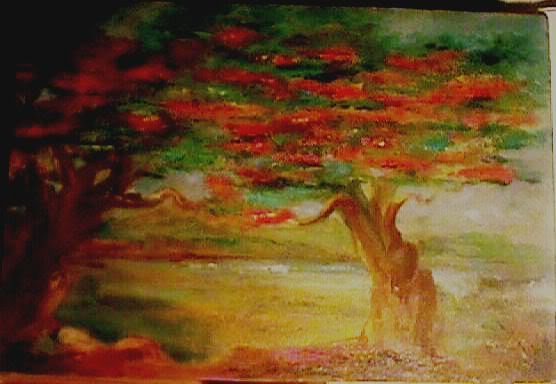 Yep,... there we are under the Mulberry trees with our boat tied up out in the water.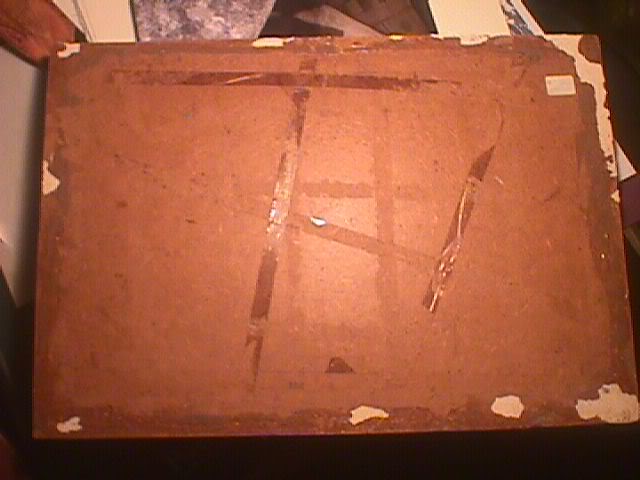 The back of the Mulberry Trees.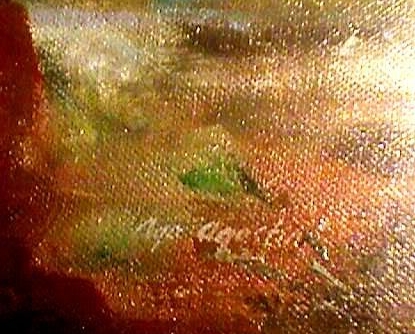 Back on the front side signed A Gogh Agostina right in front of everyone's eyes to see,... that is.... if you have eyes that can see?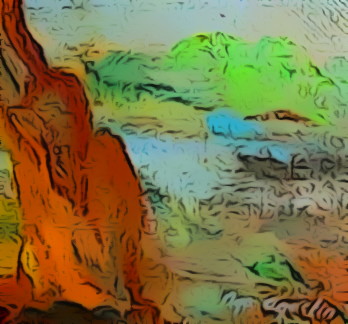 Lovely little signature just a little down and to the right of the two of them sitting arm in arm under the Mulberry tree. You can see their boat tied out in the waters edge.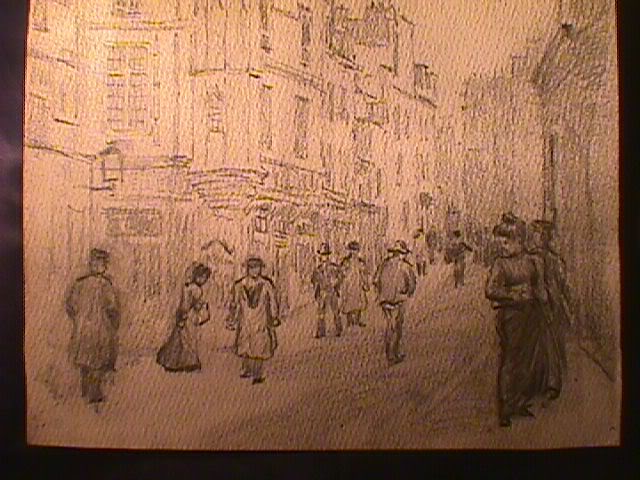 Here we have Vincent leaving his brother's art establishment of his work place with his supplies in his hands.  Down and across the street is Agostina and her cop friend just behind her as she is opening her restaraunt looking back at Vincent coming up the street. This is when I believe Vincent decided it was time to get out of dodge while the getting was good. He didn't like the fact that he had to leave a lot of his art work behind.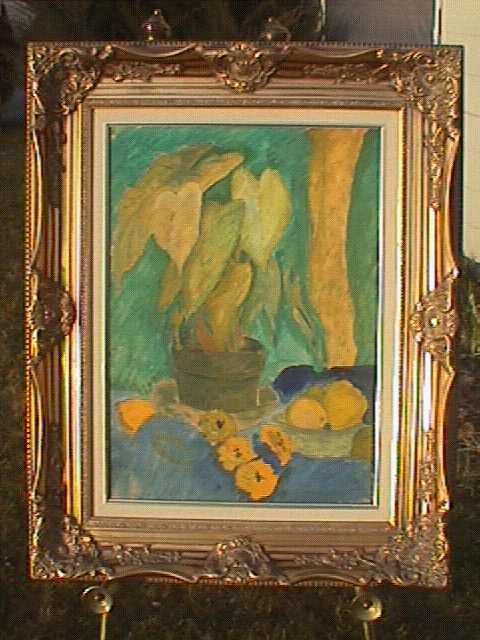 This would be Vincent's final painting he made after shooting himself while waiting for his Brother Theo to arrive from Paris.  He used the last of his thinned down oil paints to paint this on paper which the paper was already glued down on cardboard. It was actually painted by Vincent in the metaphor to help all the up and coming artist down the road, that is if it were to survive being destroyed.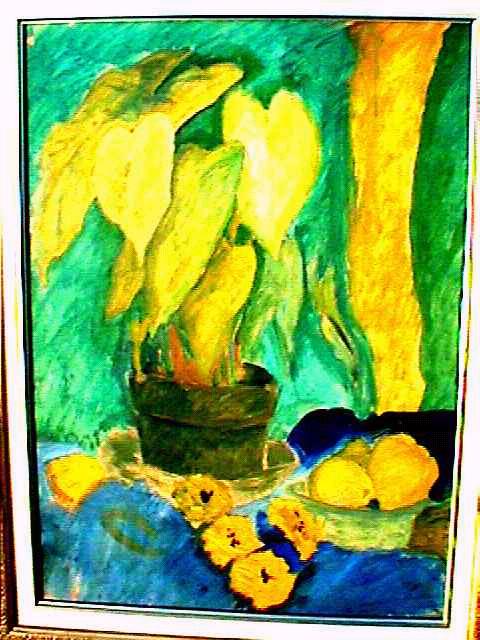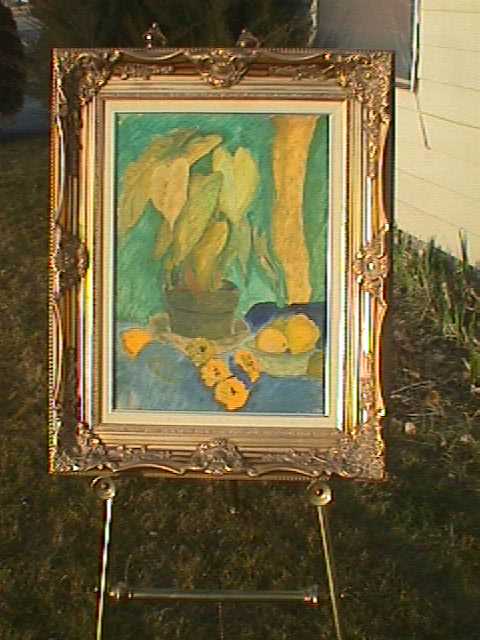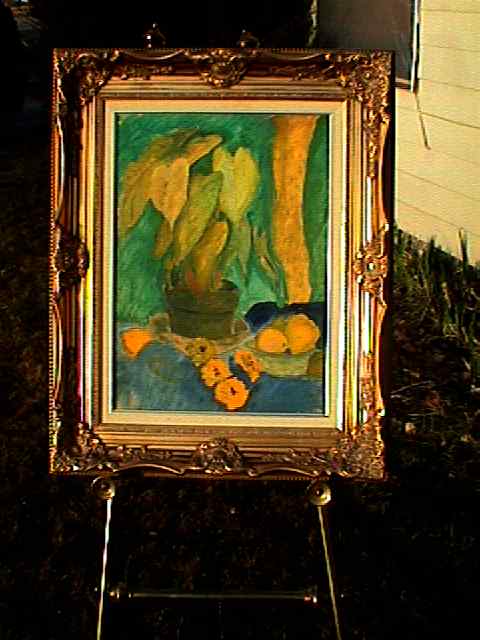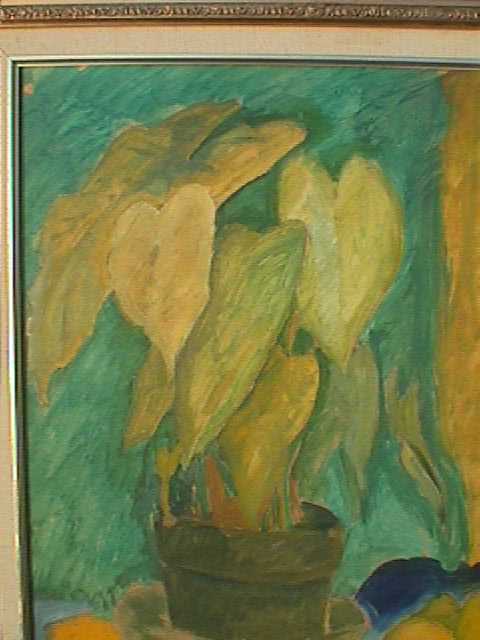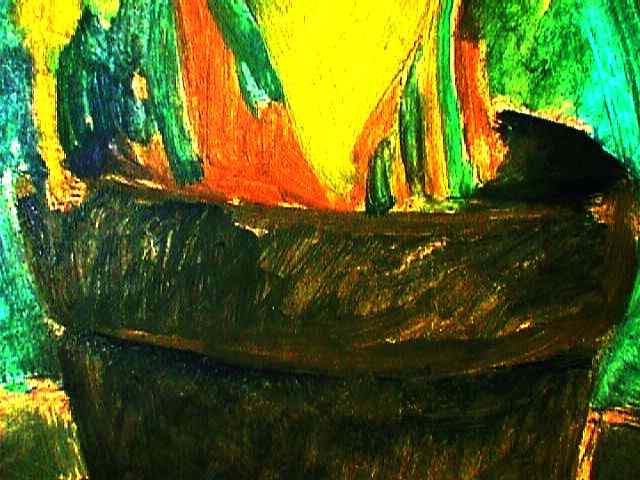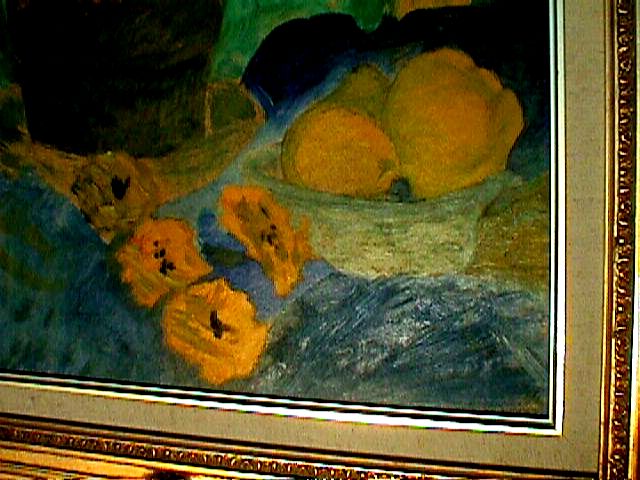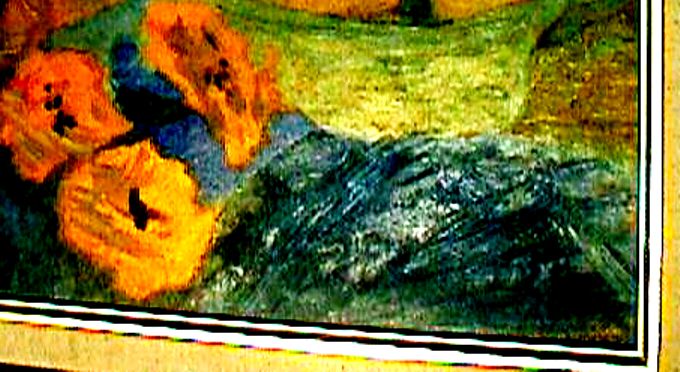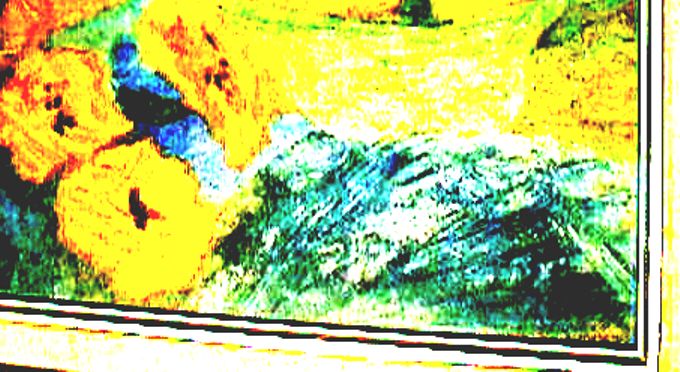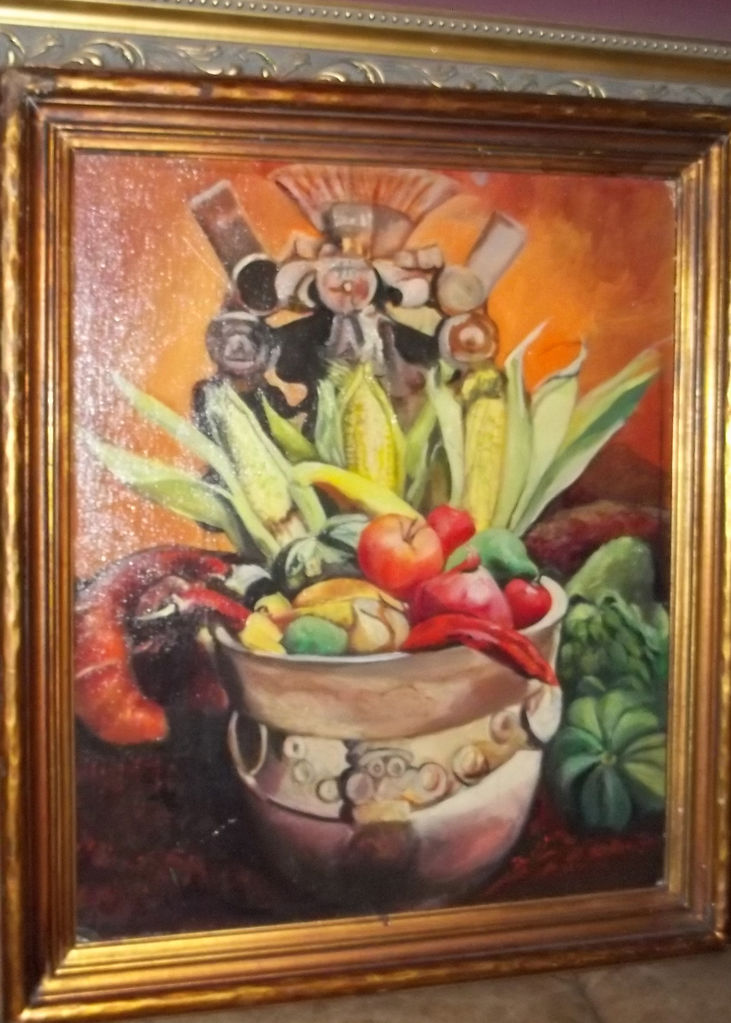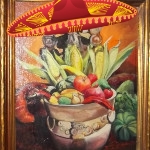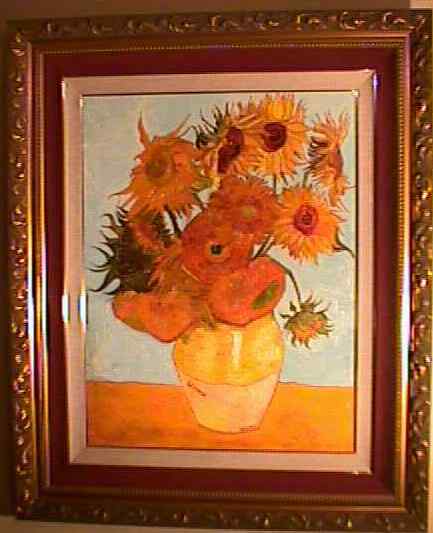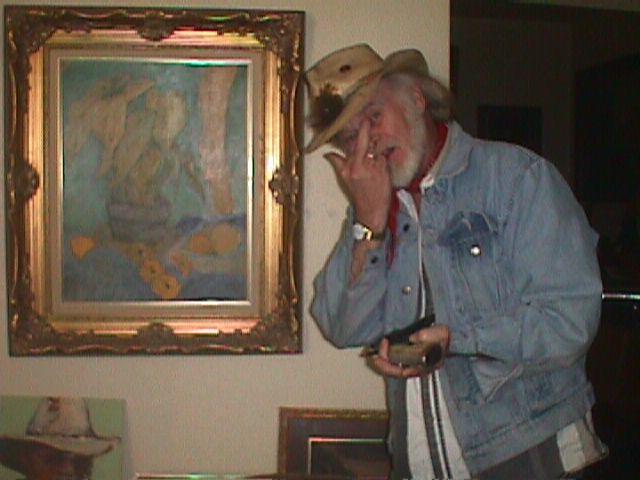 I'll be back later to add info. under this works of art.
F#( K You!  Was that Vincent's insulting way in this last painting he was talking about to his brother Theo and concerned with in his last letter to him? Is this what Vincent meant to be saying and showing ones who would possibly see this metaphor he had painted, and what was meant to be seen in the future by futuristic art eyes?
Yep,... I would have to say very much so,... for Vincent wouldn't have painted this very last painting after he had shot himself and was waiting for the arrival of his brother Theo. Theo his art handler who had deserted him in his desperate time of need.  Theo his brother didn't die of syphilis, for six months after the death of Vincent, Theo succumbed for his guilt for deserting his artist brother Vincent.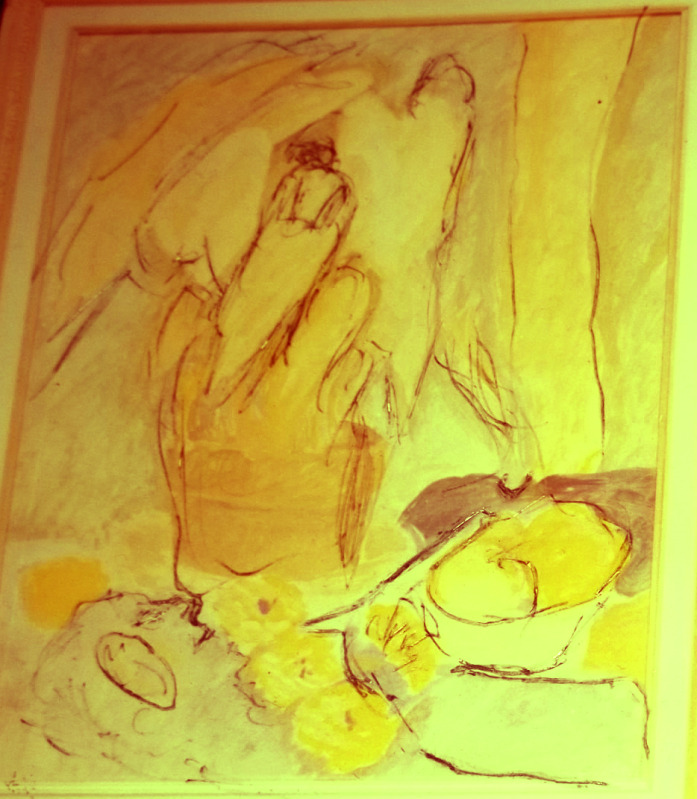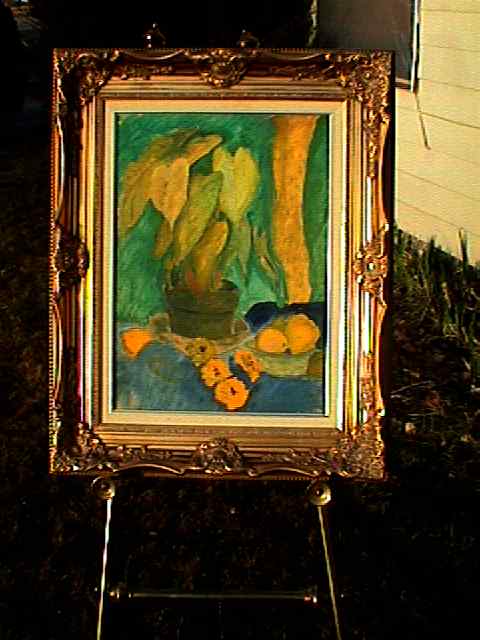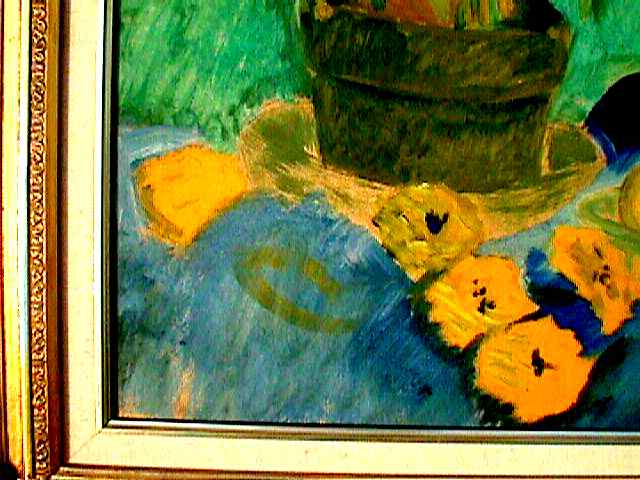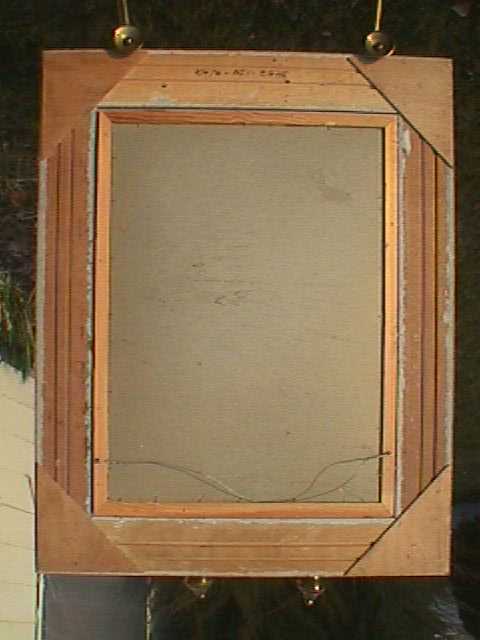 The End