Moving blog forward from 4/30/08
A true turn of the 20th century oil painting,... and not looked at very admirably in the eyes of the MFA experts. While being shown and not intended by myself of misleading ones about this painting being discussed just below, it's only put up for viewing as for a comparison of subject matter.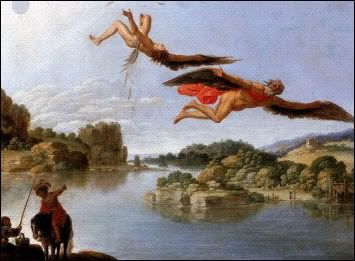 AROUND THE WORLD
Art found in sofa sells for $27,000
October 31, 2007

 

BERLIN, GERMANY - A German student who bought a pullout couch for $215 at a Berlin flea market found a painting worth more than 100 times that amount hidden inside when she unfolded the sofa at home.

The tiny 10- by 15-inch oil painting sold for $27,630 at a Hamburg art auction last weekend, Auction House Kunst Kettler said.

The work, "Preparation to Escape to Egypt," was painted by an unknown artist close to Venetian painter Carlo Saraceni between 1605 and 1620, the auction house said Monday night.
-------------------------------------------------------------------------------------