Believed to be painted by Corot along with being the artist self-portrait of himself and his young girlfriend.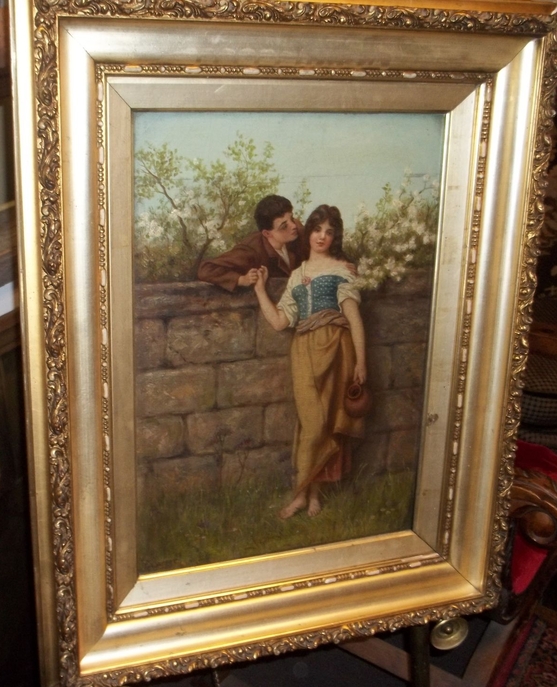 Somewhere along the line this beautiful paintings signature was played with and signed over the top of the original signature that probably faded or wore off from people touching the signature with their fingers. This does happen far more often than most would expect, just as so many paintings of this world are wrongly attributed. This usually happens when the paintings get older, hard to read and while some think that is what they see and resign, or sometimes they are just down right crooks and sign their own name while claiming the painting as there own. I would guess this painting by judging the age of the two young people, Corot could have been in his early twenties while she was a bit younger.  If I'm correct that would make this probably being painted around 1818. Corot was born in 1796 so you do the math.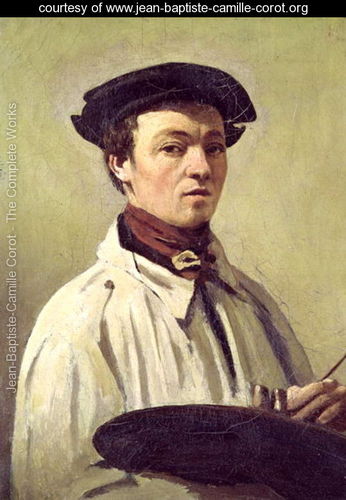 Well, I believe it's time to convince myself along with a few others of what I believe this painting to be of.  In looking at a few of these signatures on some of the works in my collection, which very seldom I can read or make out what they say, or even what artist's name they happens to represent, it amazes me how many are not known among the great artists of fine art.  I ask myself,... why not,... why can't a person paint one great painting and never paint another?  I know that this has happened before in history,... because I own one painted by one very famous person, one who was never known to pick up a paint brush and try his hand at painting. This is as far as the experts of this persons museum knows,.. for they have told me this in just a few word in one short sentence,.... but at the same time not leaving out the possibilities of a donation to their museum.
This painting below is signed as far as I'm concerned and say P.T. Barnum 56 and depicts all of his clowns working for his Barnum & Baily Circus.  You can see yourself the big stage doors that they make their entrance to the paying public's view.  You see through these doors the light of the gas lights used to light up their big tent for the shows they were putting on. In the bottom right corner you can see the storage box the one clown is sitting on that spells out part of the word Barnum and you can surmise the rest yourselves.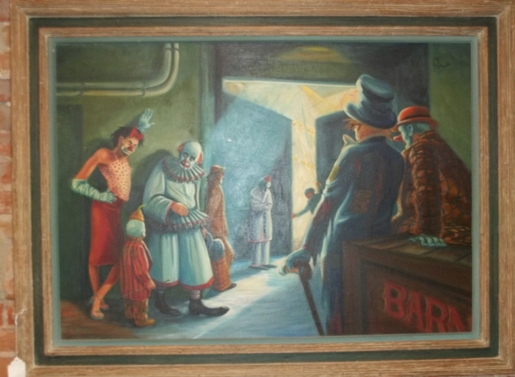 Yes this very large painting of Barnum's Clowns pretty much says it all.  How stupid our MFA experts really are. You would think after computer science finally takes over a few of their MFA jobs we just might have a few more brewers out their than we actually need.