John Browne,... supposedly the artist of these two paintings, but on the contrary,... this church alter boy or decant, or what-ever, he was just the subject matter of these two Vincent van Gogh watercolors by the name of John Browne.  They were signed and reproduced and made into many prints later on down the road after Vincent had died or maybe this was Vincent great idea of making money when he drop out of school at Antwerp. Evidently if someone else made these they thought he was the artist since his name was on this first one. You notice how the second one is signed up in the air to where no artist in his right mind would sign such a work of art or unless Vincent put it their wanting to connect the two of them?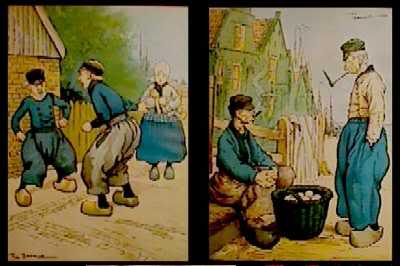 Vincent didn't really say too much about what he really knew about this incident happening in the churches fellowship. This little false tale was the main caused for him to be thrown out of his art gallery on the Catholic church grounds that he work so hard at getting it going.  But he could surely paint it for later on down the road and letting art viewers who could see know what really happened.  Vincent own eggs in this matter was all in one basket. Vincent had painted it here for his landlord Sharfrath or what ever his name happened to have been.
Where the hell do you think that o'l saying came from,.... John Browne, I'll Knock you down,.... not up!  That saying came straight from Vincent van Gogh when confronting this church bastard who was blaming Vincent for his own infidelities and not claiming his own flesh and blood.
more coming later.
Cheers vanrijngo