Saint Peter's boat or "Christ in the sea of Galilee" you choose.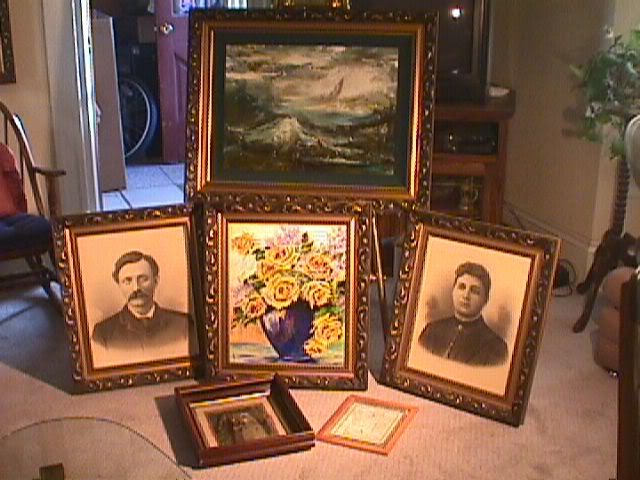 2 oil Painting, 2 chalk drawings over Photo impressions, one tin type wedding photo, and an 1877 Afgangsbetyg, all were bought by me from one estate sale.
These works I had cleaned and put into these nice new frames that were made for them other than the two at the bottom that they were in already.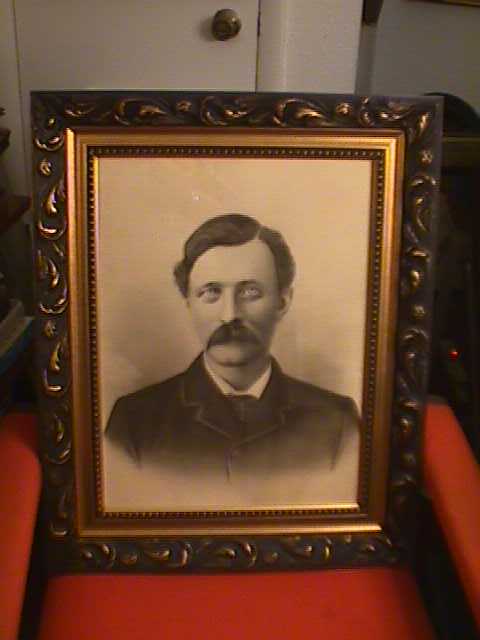 Chalk portrait drawing ( 14 by 16" )   Frame ( 15 by 19" )
Father;  John N Nelson, Born in Sweden, and  was living in Cascade Id. at that time and died 1904 on June 17th in a Mt. Home Id. hospital. of stomach ulcers and liver troubles.
Possibly she could have been a relative of Theo wife Jo?  Vincent looks as if he did there enhanced wedding photos and portraits while making a couple of sale of of his own while working at a photography studio there in Paris.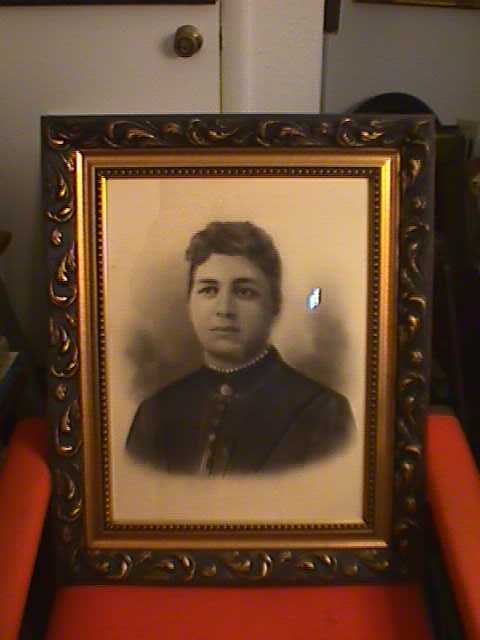 Chalk portrait drawing ( 14 by 16" )   Frame ( 15 by 19" )
Picture of mother Amanda Lind done in chalk, born in Hvetlauda, Sweden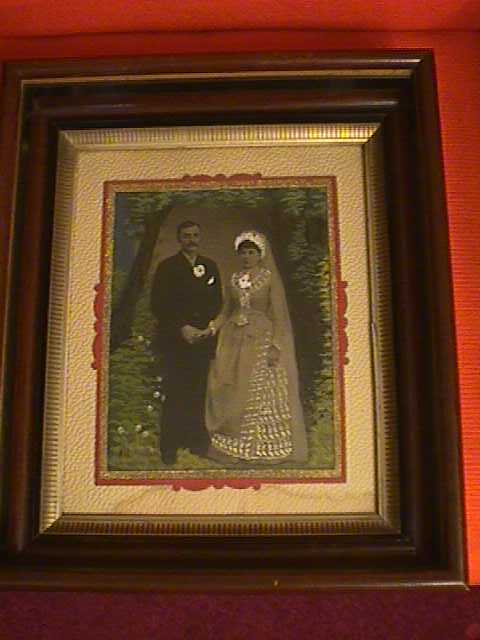 Tintype Artist enhanced wedding portrait
Size of picture  ( 7 1/2 by 9 1/2"    )     Frame   (14 by 16" )
The wedding picture of mother Amanda Lind, born in Hvetlauda, Sweden and her husband John N. Nelson, also born in Sweden. Hand painted on tin type, and beautifully matted and framed. New paper under the wood panel backing used to hold photo in place has date of "1892" and probably framed in New York when they came to the land of great opportunity.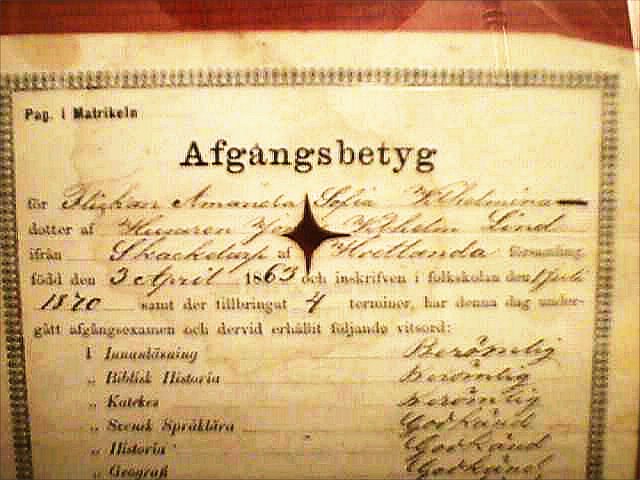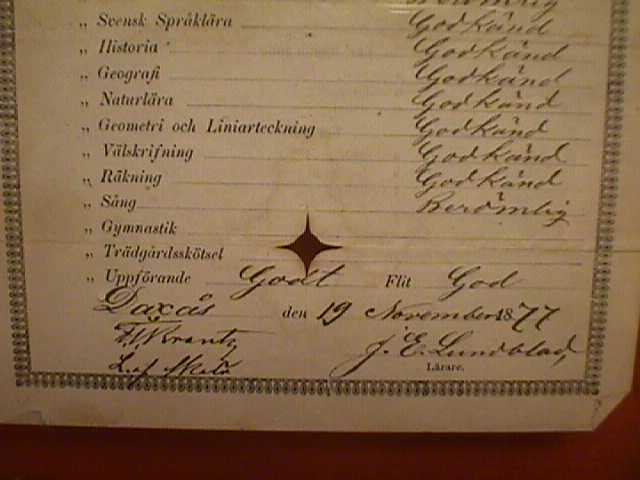 Amanda Lind's certificate from school.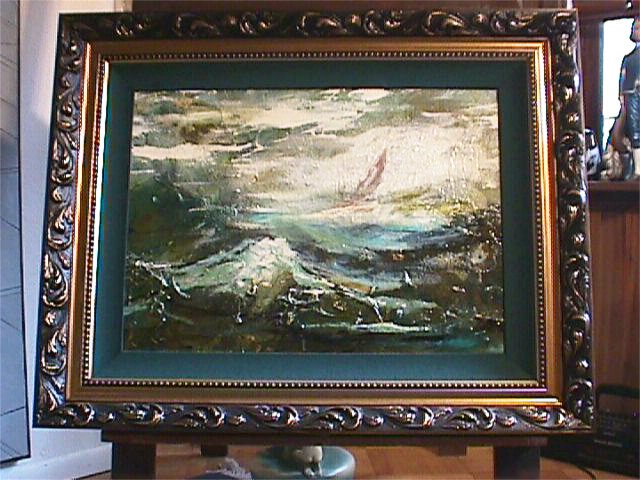 Size of painting ( 18 by 24"  )   Size of frame ( 27 1/2 by 33 1/2" )
 attributed to Vincent by Bob Miller (vanrijngo) ; 
 This painting is on pressed wood paneling. This painting was framed behind glass for years and the glass was so dirty you couldn't even tell what the painting was of, and eventually, moisture, from being framed and behind glass caused the painting to crack lifting some of the paint up from the board. The paint was lifting up on the whole left hand corner, about a 3 by 5 inch area of the painting.  I was literally sick. When I examined and discovered this fact.  I could see that all the paint was all still there and intact. 
  Being painted on wood,... I thought to myself,... why not try and glue it back.  Using my knife, holding the paint up a little without braking the paint, and holding the painting on a slant, I ran some Elmer wood glue behind the loose paint and then pressing it softly back to the board. I wiped off the excess with a damp cloth, then setting some heavy books on the glued area of the painting and left it over night till morning.The next morning after looking at it, I was so pleased with the way that it turned out, I cleaned and varnished that wonderful work of art.
 Only then did I begin my studies,.... and only after did I make the determination that it was in fact a van Gogh, a copy after Rembrandt's "Christ In The Sea Of Galilee". Then I had it wonderfully framed along with the rest of the ones that I had purchased a couple of days before at this estate sale I was so lucky in finding.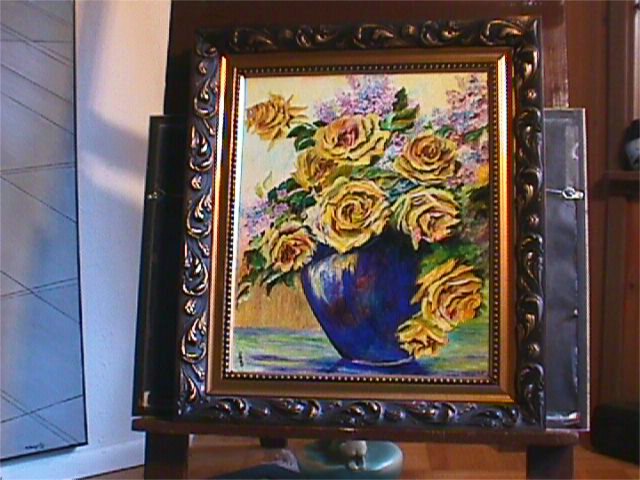 The Vase of Yellow Roses
 From an estate of John and Amanda Lind, Nelsons, presumably sold at their daughters or sons estate sale, along with the  wedding picture of mother Amanda Lind, born in Hvetlauda, Sweden and Father John N. Nelson, also born in Sweden.
vanrijngo