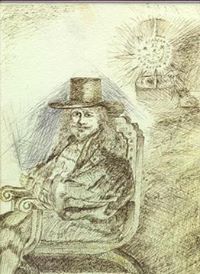 This drawing in ink of mine actually sold for $350.00 on eBay to a fine art collector after being looked at only 18 times from the counter I had put on it and was pick off in the first couple of hours it was up.  I put it up for sale for $1.00 starting bid with N/R & buy it now for $350.00.  Does that tell you anything?  Oh,... of course!  I know what you are thinking,...this world of ours is full of nutty people.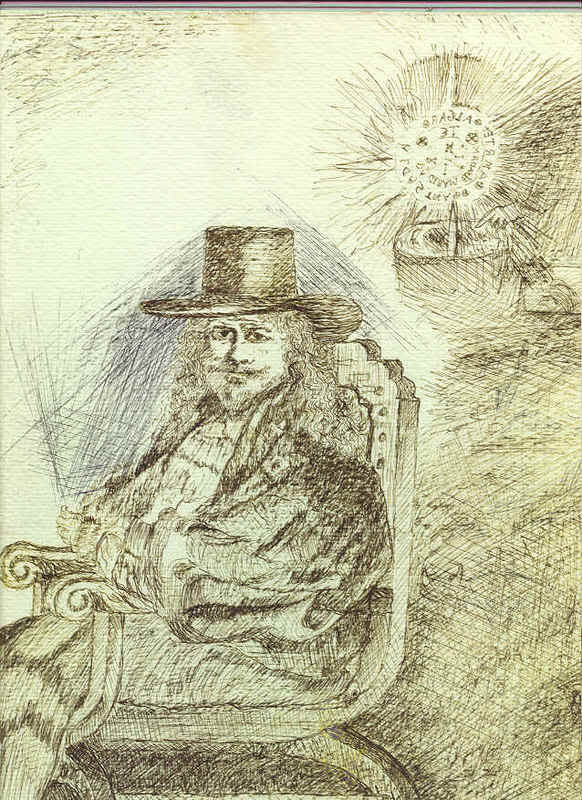 From the light of the window in the etching I made this drawing, with only pen on art paper while turning the etching sideways while looking into a mirror. This undeterred disc, appeared in the air magically of this etching while displaying a very clear message following correct readings of this etching and numerous others of his many etchings reveal similar things.   There are an unbelievable number of delicate lines in his etchings, adding up to many fragile and magical images.
 Whether or not it was intended or not, and most likely was the artist himself knowingly creating these hidden images which can come together in the spectators mind and the subconscious as truths as the artist himself was telling it.  In very rare cases, there is also a quality of visual reality which will show true result from careful study of the hidden line qualities to go along with the subject matter in revealing these not yet realized facts by myself.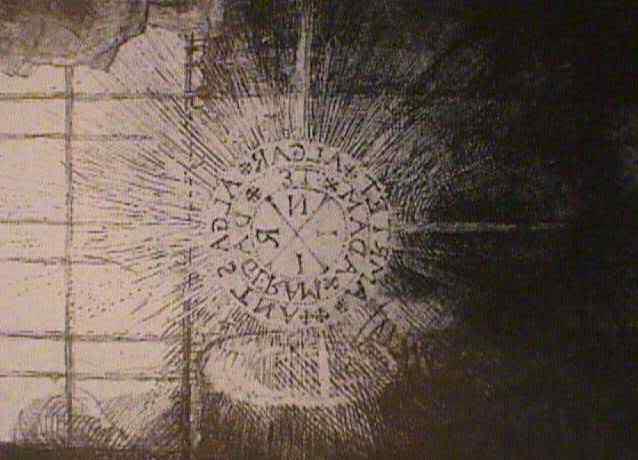 This happens to be a reverse image out of the etching turned sideways just as I have done in my drawing.
The skull in "Dr. Faustus," at the extreme left, echoes the face of doom. This in one of Rembrandt's most confessing and un explained etchings ever done by this artist. This frightening etching was made all the more mysterious by the complete failure of all modem scholars to discover the meaning of the letters in the "magic disc." All Rembrandt's drawings, etchings and paintings of his sick wife, Saskia, refer to the etching of Dr. Faustus. Even the sickly-looking witch, which he painted into the "Night Watch," in 1642 (the year of Saskia's death), reflected these truths.
In the "Etching of Dr. Faustus in His Study" actually represents the good doctor, Rembrandt's closest friend and confidant, Dr. Van Loon, who on a particular day in the 1630's was having drinks with his good friends, Ephraim Bueno and Rembrandt. In his drunken stupor, he had answered a question, put to him by his good friend Rembrandt.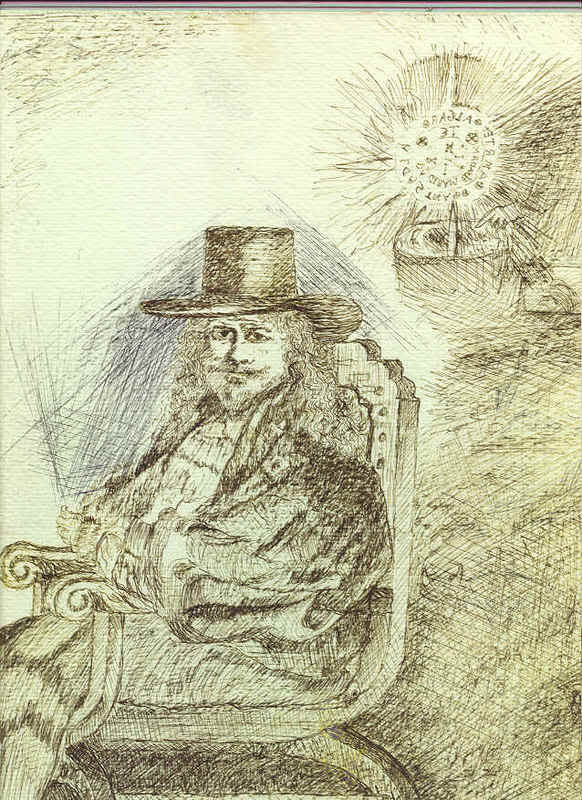 The question posed to Dr. Van Loon requires no explanation, once the answer is know: 1-Ragla, 2-Tetrma and 3-Ant Sadla. This concoction, added to milk and administered over a period of two or three years would take care of Rembrandt's problems! This elixir was to make marriage possible after Saskia's death! Unfortunately, Rembrandt gave no thought to the possibility of a Will being drawn up before her passing. To read "Magic Disc" you must turn it sideways, while holding it up to mirror, so that the mixture appears to run into the pail of milk.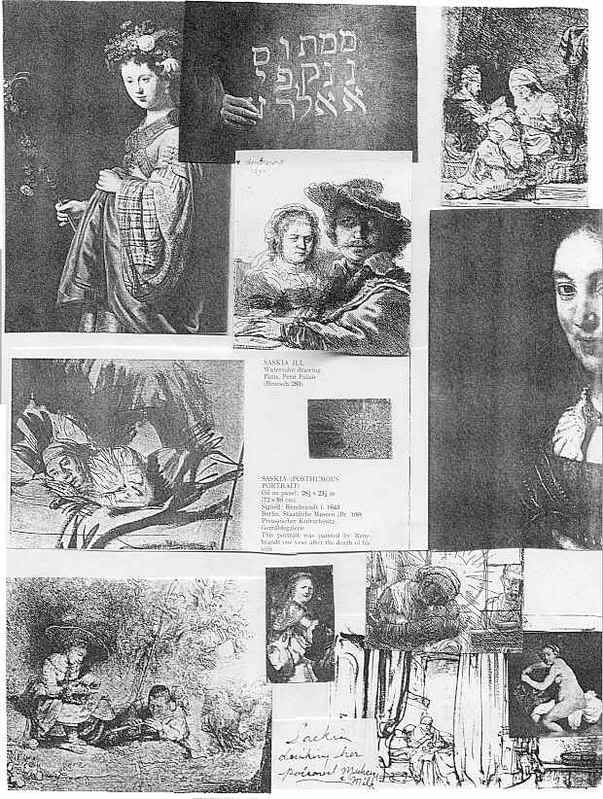 I don't know how many of his etchings and works of art lead us to this same subject.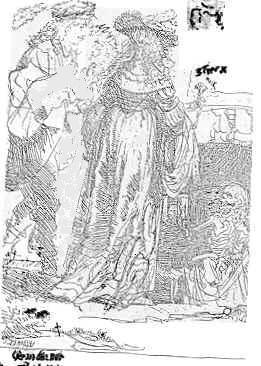 Saskia having a toast with the grim reaper while the artist groom in the feathered hat of these two newly weds is in a mind wandering daze. 
  vanrijngo