All these works below were purchased by myself at one estate sale
The oil painting I call "The Sea of Galilee" which was framed behind glass was repaired by myself which I will explain later.  The oil painting of "The Roses" was also frame behind glass but hadn't any damage.  The two Chalk portraits were not in frames at the time of purchase but were in better than fair condition.  All were framed with matching frames except the two smaller picture frames in front, a wedding portrait and a school graduation certificate.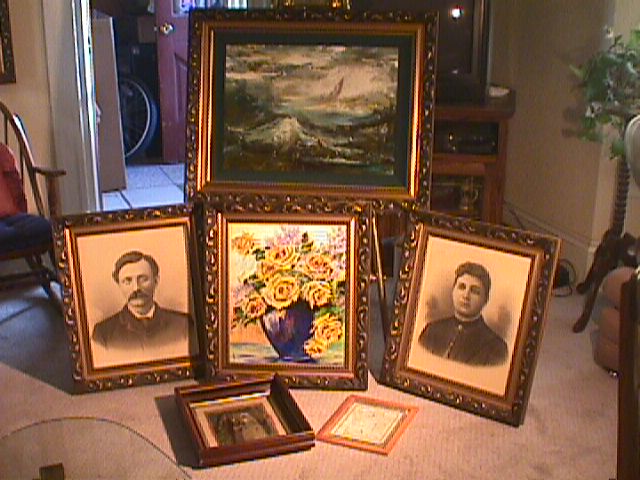 I'll be back to show some better picture of these oils paintings of the Roses and of Vincent's Sea of Galilee somewhere down below.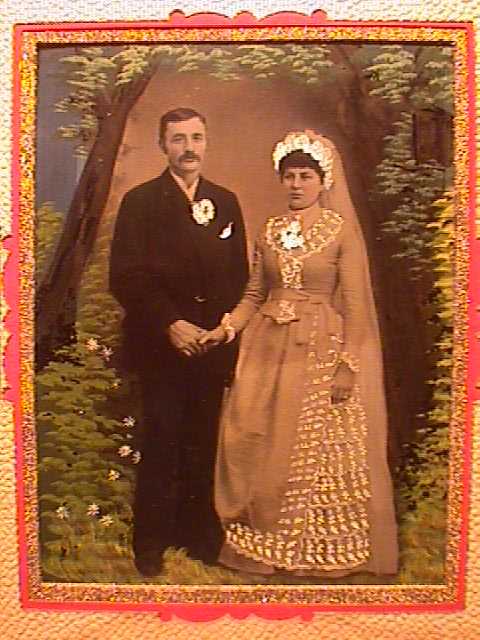 The Nelsons Wedding portrait looking to have been taken by you know who and enhanced by oil painting on the tin photo of the ivy, flowers, and the intricate design of the formals.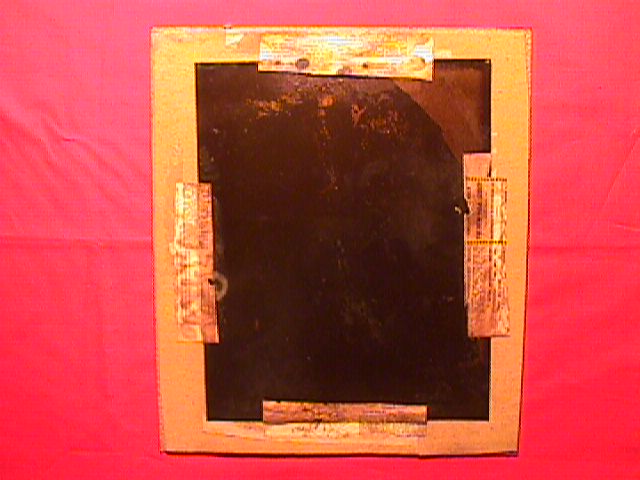 Back of wedding picture
This shows us news paper glued to the back holding the tin type in place with the new matting it was framed in after the Nelsons coming to the United States of America. It was probably in some kind of a cheaper folder type holder when done there in Paris where Vincent had worked as an artist and enhancer of Photographs.
 Mrs. Amanda Lind Nelson born in Hvetlauda Sweden shown here as in a enhanced photo done in chalk. I'd guess around the same time period in the middle of the 90's of having their wedding portrait framed when coming to the United States. She Died in 1933 at 70 years of age and was buried in Mt. Home Idaho next to her husband.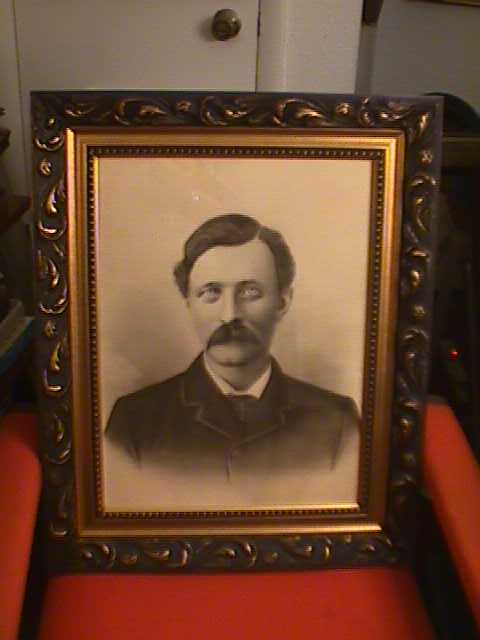 Mr. John N. Nelson born in Sweden died in 1904 of stomach ulcers and liver troubles and was buried in Mt. Home, Idaho. They had lived in Cascade, Idaho after leaving the town of Croakstaw in Nov. 1903.
I do no not believe these enhanced photos in chalk of the Nelson's to be by Vincent's hand. Just the younger wedding Portrait of them done in the studio where Vincent worked there in Paris.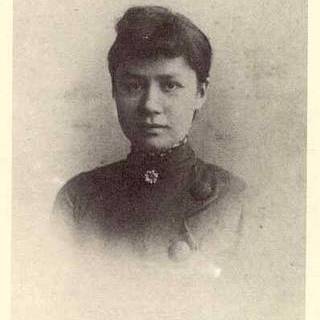 Mrs Nelson & Johanna van Gogh-Bonger pictured side-by-side who could very well have been cousins or related. This period of 86-7 would have been the time of Jo's courtship with Vincent's brother Theo.  Naturally Vincent working at a Photography studio there in Paris, Theo would have sent Jo's cousin and her fiancee to where his Brother was working.
Will be back later to add verbal descriptions and more pictures.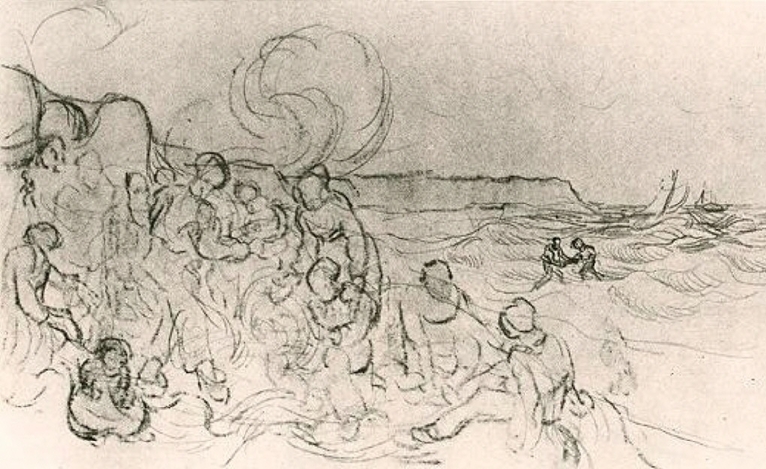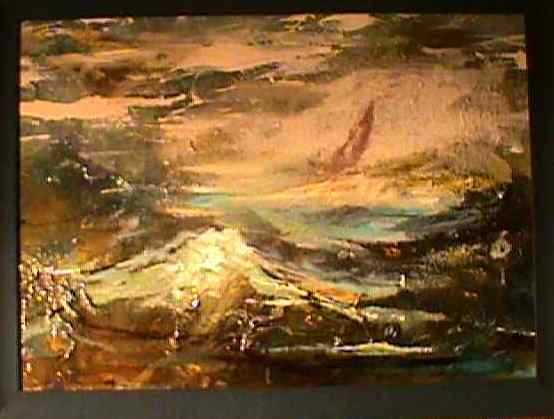 You would not believe the condition that these works of art were in when I found them is an estate sale in Boise, Idaho back in the early nineteen nineties.  I would only guess by just being a buyer, not one of the handlers, that this estates was one of the Nelson's siblings who themselves had passed away.  The reason I'm sure of this is the fact these works of art, enhanced chalk portrait photos, tin type wedding portrait and Amanda Lind's graduation certificate, all remaining in the same estate sale.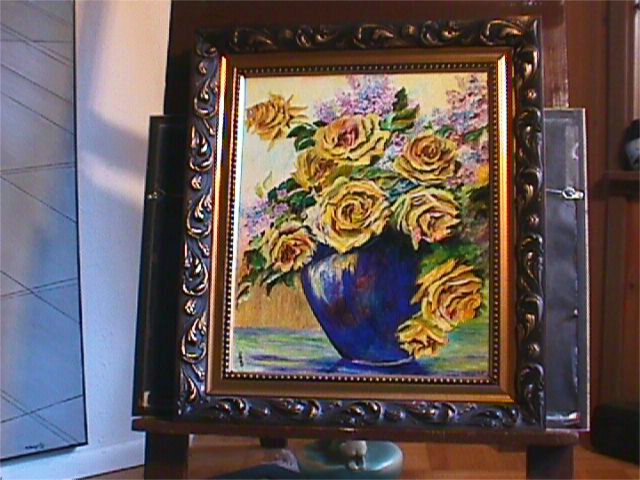 The Yellow Roses were in such deplorable shape, just like his Sea of Galilee painting, They were both framed behind glass in broken down old frames. The glass was so filthy you could not hardly discern what was behind it. I bought them both and headed home to take them apart and clean them up. I was amazed how great the flowers were that were painted on a prepared canvas board and that they were still in great shape.
When I took the frame and dirty glass away from the painting of The Sea of Galilee, I was in utter despair of its condition. The paint was actually lifting up from the board it was painted on. As thick as the paint was and cracked all through the painting and lifting up in four or five places I had thoughts of just throwing it away.  The closer I had looked at it I saw all the paint was still intact so I thought I would try and glue it back to the board. I got my big bottle of Elmer's glue and held the paint out a bit while dumping the glue right out of its container between the paint and the board in all the places it was lifting up. after doing this I wiped off all the excess glue with a damp rag and then proceeded to stack a bunch of my large heavy art books on top the painting. I told myself it was either going to work or it wasn't and walk away and forgot about it. When I check it out later on that day I was amazed at how well it had work. After wiping of more excess dried glue with a damp warm cloth it was like it was never damage at all. This is why you should never frame oil painting behind glass.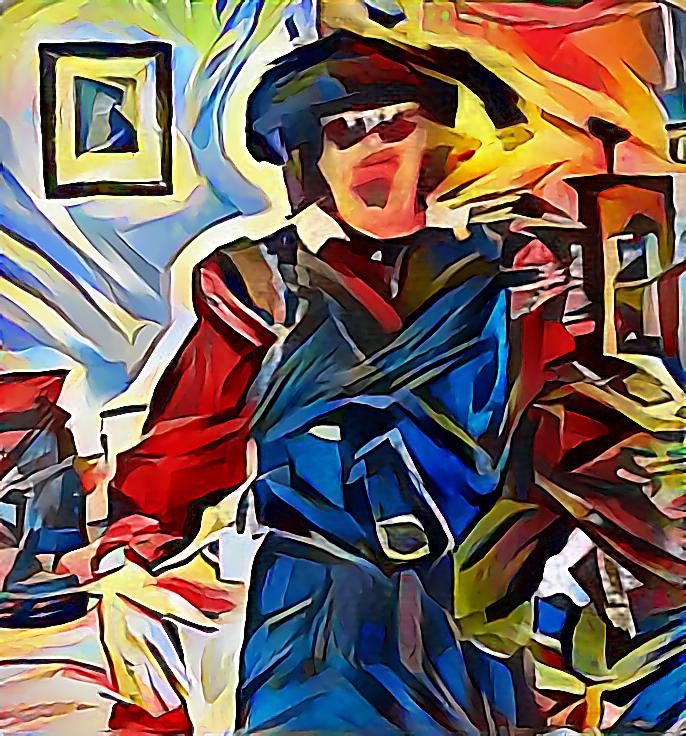 This my artistic friends is a enhanced photo of myself dressed in costume as to being Rembrandt. Pretty cool,.... huh?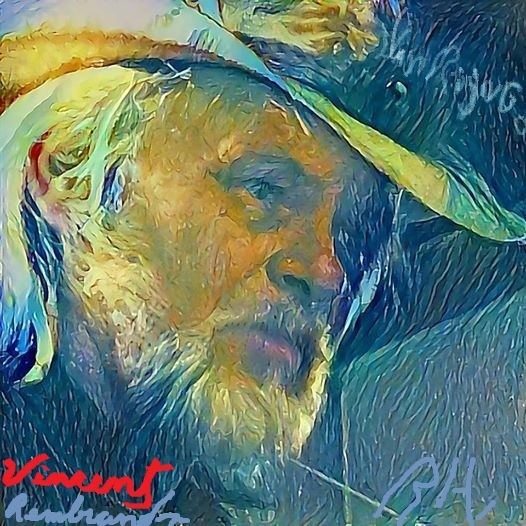 This my friends is a photo of myself painting at the time in a studio of my good friend and artist Rick Friesen of Boise, Idaho. Yes it is enhanced by some photo shop and signed by myself with a computerized paint brush. As you might read Vincent in red, Rembrandt, on the right RH_, and Van Rijn Go - vanrijngo at the top. KOOL!